I ran across a BusinessWeek article today about retirement plans in 2008 from top 401(k) provider Fidelity Investments. It stated that although the average retirement account balance fell a whopping 27% to $50,200 last year, people actually contributed slightly more in 2008 than in 2007.
This quote also caught my eye:
Are investors making a lot of changes within their retirement accounts?
Some 60% of plans administered by Fidelity in 2008 utilized a lifecycle fund as a default investment option, that's up from 38% in 2007. What happens in a time of short-term volatility is that investors in these funds are not switching. Only 1% lifecycle fund investors made a change compared to the overall average to 6.1%.
Makes sense overall. Investors in these types of funds want all-in-one simplicity. However, almost every company these days offer a lifecycle retirement fund. And most 401(k) investors can only invest in the one that happens to be in their plan. Check out this Money magazine example of the possible extremes out there for a mutual fund designed for a worker retiring in 2010: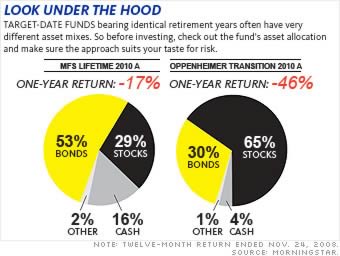 On the aggressive side, the Oppenheimer Transition 2010 Fund (OTTAX) has 65% in stocks for someone on the verge of retirement, resulting in a 46% loss in 2008. On the conservative end, this AP article has an even better example – The DWS Target 2010 Fund (KRFAX) only has 18.1% in stocks and only had a 3.6% loss in 2008. The rest was in cash and bonds. (Of course, it also had a fat front-end load and is closed to new investors.)
That is some pretty stark contrast. Do you know what is inside your target-date fund? Dig up the ticker symbol, plug it into Morningstar, and scroll down to "asset allocation".
What about the big boys like Vanguard?
Even the most highly-rated mutual fund companies don't agree on the asset allocation for each time horizon. See how Vanguard, Fidelity, and T. Rowe Price differ in their target-date retirement funds.