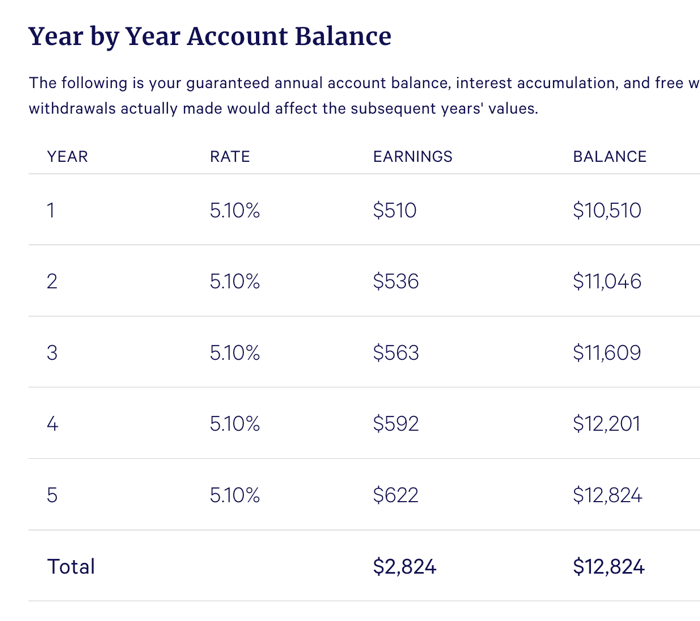 Many people hold a blanket assumption that all annuities are bad investments. Indeed, many annuities offer confusing promises with high hidden expenses, but I believe that certain annuities can be a very useful tool in retirement planning. First, the annuities must be transparent with clear, contractual guarantees such that you can directly comparison shop different products against each other. Two of the most simple types of annuities fit this definition:
Single premium immediate annuities (SPIA). These are for lifetime income in retirement. You pay an upfront lump sum (single premium), and you immediately start receiving a guaranteed monthly income check for the rest of your life (or joint life).
Multi-year guaranteed annuity (MYGA) fixed deferred annuity. These are for the accumulation stage. You put up your principal and similar to a bank certificate of deposit, you receive a fixed, guaranteed rate of return for a certain number of years. The investment growth is tax-deferred until age 59.5 when you withdraw your funds without the 10% IRS penalty. At that time, you could also roll into an SPIA.
Right now, MYGA rates are over 5% at the 5-year term and longer. (Image above is a sample chart of the growth of a $10,000 investment for a 5-year MYGA at 5.10%.) These rates are still higher than prevailing bank certificate rates and Treasury bond rates, while also offering the potential for tax-deferred growth while in the annuity wrapper.
There are additional wrinkles of course like early withdrawal penalties and annual withdrawal allowances, but the most important part is that you you can compare apples to apples at websites like Blueprint Income, Stan the Annuity Man, and ImmediateAnnuities.com.
MYGAs 101: Who are MYGAs a good fit for? They aren't for everyone. I wondered how a MYGA would fit into something like the Standardized Personal Finance Advice Flowchart.
You have adequate emergency funds.
You don't have debt besides primary mortgage.
You have maxed out your available Roth IRA, 401k/403b/457, and HSA contributions.
As part of your asset allocation, you would like more room for a CD/fixed-income style investment in a tax-deferred vehicle.
You are saving for close to a traditional retirement age (i.e. don't need any liquidity until age 59.5).
You have looked at your state-specific guaranty limits and will stay below them for any single insurance issuer. You understand what the state guaranty system does and doesn't provide.
I have written in more detail about MYGAs here:
Low-Risk MYGA to SPIA $100,000 Example. Let's say you are a risk-averse 50 yo investor (Texas resident) with $100,000 and want to retire at age 60. Based on actual rates available today (10/19/2022), you could put the $100,000 into a 10-year MYGA at 5.20% today and in 10 years you will have $166,019 due to the tax-deferred compounding. Both the initial and final values are well within the Texas state guaranty limits of $250,000 per insurer and the insurer Oceanview is rated A-.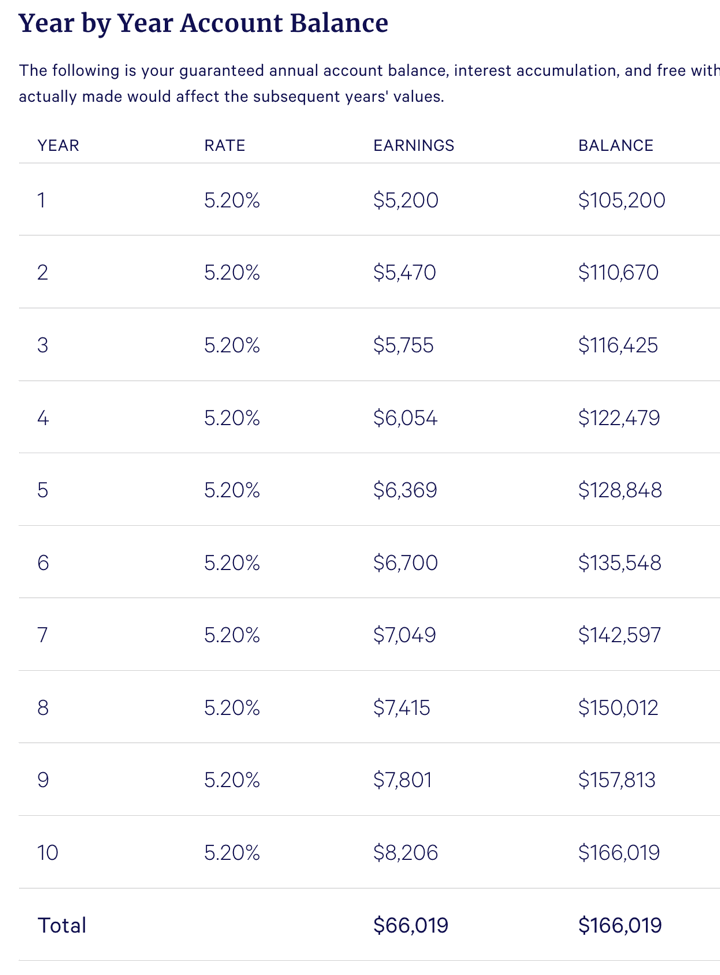 I can't tell you the future, but let's say you are 60yo and have that $166,019 today. At current rates, with $166,019 you can get an immediate annuity from Nationwide Insurance paying between $955 a month or $11,500 a year (female) and $11,800 a year or $987 a month (male) for the rest of your life. This will stack with your Social Security to create a very stable income base to complement your riskier growth assets, even if you live to 110.
You are giving up the possibility of higher returns via the stock market in exchange for a slow-and-steady option with no stock market volatility. If you were going to invest in bonds anyway for part of your portfolio, this option offers the potential for higher returns in a tax-deferred wrapper (like with a Traditional IRA, you still owe taxes on gains at the end).

Bottom line: MYGAs can be a good tool to keep an eye upon. Each unique tool available has different features for the right situation. For example, a no-penalty CD offers the unique combination of a rate that you can always ratchet upward but will never go down (savings accounts can drop whenever they want), plus you have instant liquidity whenever you want. In contrast, this MYGA offers a significantly higher rate with tax-deferral benefits that can really add up over time, but you have extremely harsh early withdrawal penalties and you must do your due diligence and diversify to minimize any risk involved. You might find them useful for a portion of your portfolio, or you might not ever need either one.