One of the recurring themes of personal finance is that while the concepts are often simple, execution can be quite difficult. A couple of excellent posts from Mr. Money Mustache and The Military Guide (both also mention the Early Retirement Extreme book) provide another example when answering the question "How many years until I can retire?"
Let me summarize. A simple definition of financial independence is creating enough income from your investments to pay for your expenses. Assuming a "safe" withdrawal rate of 4%, this means your portfolio must be 25 times your expenses. So if you spend $30,000 a year, you'll need $750,000. (If you want "safer" withdrawal rate of 3%, that increases it 33 times expenses.)
Given the rough assumptions of starting with nothing and earning a 5% inflation-adjusted (real) return on investments every year, you can simplify things even further. (5% real return looks plausible based on the past, but I know it's harder to see it now.) It works out that the only thing that matters is your personal savings rate:

After-tax numbers work better since expenses are usually after-tax. MMM provides a table, which I in turn converted into a single curve: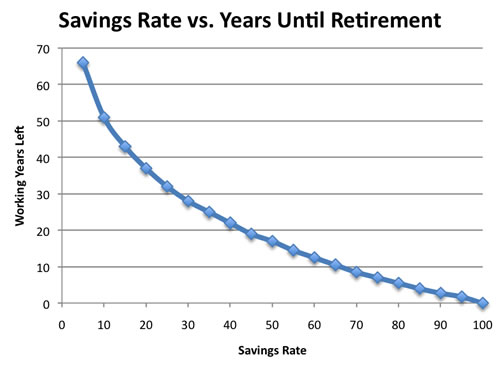 Notes:
The harsh truth is that if you want to retire before Social Security steps in, you're going to have to save a lot more than 10%.
The curve is steepest at lower savings rates. That means increasing your savings rate from 10% to 20% shaves off more time working (14 years!!!) than increasing from 20% to 30% (still 8 years!), and so on.
Retiring in 20 years requires roughly a 40% saving rate. Retiring in 10 years requires a 65% savings rate.
If you're new to the financial independence community, the idea of saving 40% or more of your income may be incomprehensible. Hopefully you will realize that it is possible, if you wish to pursue it. I have come to the conclusion that some people will happily work for 30 years in exchange for the ability to drive a new BMW every 3 years. Others (gasp!) just like their jobs that much. All that's fine as long as that's a conscious decision.
To increase your saving rate, you must either increase income or decrease expenses. While decreasing expenses is actually the more accessible option for most families, it will likely remain unpopular forever. That doesn't mean you can't do it, because many people are quietly doing exactly that. Try – you may surprise yourself.
I am also a strong proponent of increasing income. In the end, in our household we did a combination. Both of us earn an solid income after a combination of tuition-based postgraduate education and "DIY education", but we only live on the lower income. Armed with a 60%+ saving rate, we are on track to achieve financial freedom according to this definition within another 5 years, although we may take a different path by working part-time for a longer period.
I must admit, even though I have known this "truth" for many years, I don't actively talk about it because we do earn much higher incomes than average. However, that doesn't change how the numbers work. I applaud all those bloggers and journalists that don't patronize you and push the idea of higher savings rates, like this article in The Atlantic by Megan McArdle:
If you're like, well, almost everybody, you're not saving enough. 15% of each paycheck into the 401(k) is the bare minimum you can get away with, not some aspirational level you can maybe hope to hit someday when you don't have all these problems.

I mean, obviously if one out of two workers in your household just lost their job, or has been stricken with some horrid cancer requiring all sorts of ancillary expenses, then it's okay to cut back on the retirement savings for a bit. But let's be honest: that doesn't describe most of us in those years when we don't save enough.