Do you know what your household's savings rate is? Most of us probably have a rough guess, but I wanted to use some more reliable data. Here's the definition again for my purposes:

Current Spending
There are plenty of ways of tracking your expenditures, as anyone who has tried to follow a monthly budget has found out:
Handwritten expense lists
Excel or other spreadsheets
Online budgeting tools
PDA/Smartphone input tools
Automated account aggregation tools
I've tried various methods to track my expenses manually, but never had the commitment to follow through for more than a month or two at a time. I track all of my numerous financial accounts using account aggregation site Yodlee, but since August 2009 I have linked my primary checking accounts and the few often-used credit cards at the similar-but-nicer Mint.com.
It took a lot of manually categorizing individual transactions, but now it takes less than 10 minutes every couple of weeks at Mint to correct the few new stores I visit (mostly small restaurants). This means I almost have an entire year of spending data from August 2009 to May 2010: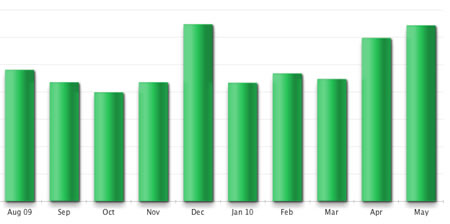 As you can see, there was a general trend, but a few months had major spikes. December had holiday gifts, some travel, and end-of-year charitable giving. In April, we bought a new high-efficiency washer/dryer and had some home electrical-repair bills. In May, we bought our plane tickets and hotel accommodations for a trip to Peru. The lesson here is that there are always going to be these spikes, and it's best to be prepared and account for them. Our actual average spending ended up being higher than I would have guessed. The monthly fluctuations ranged from 20% below average in October to 30% above average in December.
Current Income
We are a dual-income couple with no kids currently. Our "big-picture budget" is to be able to live off the lesser of our two incomes. We each make relatively good money, so we have been lucky to be able to do this for a few years now. On a practical basis, we do this by having one primary joint checking account in which we only direct deposit that one paycheck. All bills are paid out of this account. This way it psychologically easier to "live within the means" of that single paycheck as the balance goes up and down.
Current Savings Rate
I don't reveal actual income numbers, so it's easier to share the savings rate. I am using after-tax income because I feel it is more applicable. According to the above data, on average we spend 84% of the single after-tax paycheck each year, giving us a saving rate of 16%. This is helpful to know we have a buffer if one of us were to lose our jobs. (We also max out the pre-tax 401k plan employee contributions at our jobs, so the single paycheck is already reduce a bit.) When both of our incomes are included, our saving rate is over 60%.
You may consider this low or high, but in terms of early retirement for most people you'll need to put away a lot more than the 10 to 15% recommended by some experts. I like the idea of both spending a year's worth of income and saving a year's worth of income, although this will not be realistic for everyone.