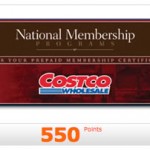 Here a promotion that could save some money for people thinking of joining or re-joining Costco. First, either sign-in or join MyPoints.com, which is one of those rewards sites where you earn points for using their search engine, reading sponsored e-mails, doing surveys, or shopping through their specific portal. Joining just takes an e-mail and a click to verify the e-mail. Then visit this link, where you can buy a Costco Membership Certificate for $55 that can be redeemed in-store for either a new Gold Star membership or an upgrade from an existing Gold Star membership to an Executive membership. $55 is what you'd pay anyway, the discount here is that you get a special voucher booklet including:
one free rotisserie chicken (~$5 value)
one free 48 pack of Kirkland Signature AA batteries (~$10 value)
one free case of 36/16.9 oz Kirkland Brand bottled water (~$5 value)
You'll also get some coupons for $10 off Prescription Eyeglasses, $3 off Kirkland Cookies, $5 off Kirkland Coffee, $5 off Fresh Meat, $3 off Kirkland Canned Chicken, $3 off Kirkland Canned Tuna, $5 off Food Court 18″ Pizza, and $1.50 off Select Salad Mixes
Here's a blurry sample of what they look like. The total value of this discount would vary based on if you'd actually use these coupons, but it'd be up to $50. The pizza, canned tuna, and canned chicken coupons would definitely get used at my house. You'll also get 550 MyPoints, which isn't worth much but it's still something (roughly 1/3rd of the way to a $10 Amazon gift certificate). I've bought these certificates before from this company (National Membership Programs) and they worked fine.
I've been a member at Costco for many years (though I avoid going on weekends). I find it a convenient place to get a decent deal on a lot of stuff with a flexible return policy. If you're a serious bargain hunter and/or grocery couponer, you could probably find some lower prices but I choose not to spend my time that way. Also see Is Costco Executive Membership worth it?, although the math has changed a bit since the upgrade is now $55 so you'd need to spend $2,750 in a year to earn $55 from the 2% cashback given to Executive members.