Joe Davis and Andy Clarke of The Vanguard Blog had a thought-provoking post comparing the increasing popularity of broadly-diversified, low-cost portfolios to the historical spread of certain technologies:
Much like electricity, refrigeration, and other great ideas, the broadly diversified, low-cost portfolio has the potential to raise our standard of living. […] The adoption of great ideas typically follows an "S" curve, starting slowly, then accelerating. Eventually, the great idea becomes commonplace. The adoption of the "broad low-cost portfolio" seems to be following this pattern.
Here's a chart they created illustrating how the adoption of various technologies spread to include the majority of US households.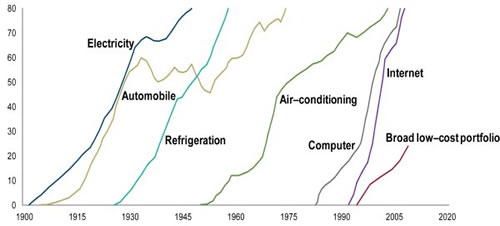 Defined as the percentage of U.S. mutual fund and ETF assets under management with annual expense ratios of less than 25 basis points (0.25%), low-cost investing has grown from less than 5% penetration in 1995 to about 25% of industry assets in 2012. Very few ETFs or mutual funds charge such low amounts unless they passively track an index, so at least right now low-cost is nearly synonymous with index funds. Will low-cost investing one day be as common as owning a car?
Tadas Viskanta adds more commentary in this Abnormal Returns post. It does seem like index fund investing has been gaining some momentum lately, partially because most hedge funds have been lagging major indexes for some time.