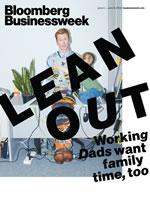 Businessweek's cover story this week is about how fathers do the work/family balancing act. The article talks about how men want to be more involved in family life as well as women but face their own unique obstacles yada yada, but this part caught my eye:
When Trombley [research engineer at Ford Motors] was expecting his first child, he and his wife, who also works at Ford, weren't thrilled with the child-care options available, and she wasn't eager to become a stay-at-home mother. Trombley remembered that a colleague from several years back had worked out a novel solution with her husband, with both taking part-time schedules to allow them to split the week up and each be home with their kids for half of it. Ford didn't offer paternity leave, but it did offer a part-time track so long as an employee's manager approved it. When baby Dylan arrived, Trombley went to his bosses and told them he wanted to drop down to 70 percent and work from home two days a week. […] There are now three other men in his department with similar part-time setups; there were none when Trombley started.
Is there a list of large, Fortune 500 employers that offer such a "part-time track" option? I only found some job board sites like 10til2 and FlexJobs. I did find this 2004 research paper Beyond the Mommy Track: The Influence of New-Concept Part-Time Work for Professional Women on Work and Family [pdf]. From the abstract:
Compared to their counterparts who worked full time, mothers who worked in these part-time positions reported significantly greater work/family balance and did not report significantly less career opportunity. The part-time group reported 47% fewer work hours and 41% lower income than the full-time group. These data support the notion that new-concept part-time work is a viable option to assist women in professional careers to successfully integrate their family career.
I'm selfishly fascinated by the idea of part-time work for salaried jobs (as opposed to hourly workers). I've met part-time doctors, engineers, professors, lawyers, even judges. For most of them it's been a figure-it-out-yourself exercise, but hopefully the idea of breaking down the traditional "full-time" job into smaller pieces is gaining momentum in the corporate world. It would not only be great for mothers and fathers, but anyone who wants more control over their life.