Here's a mid-2013 update of our retirement portfolio, including employer 401(k) plans, self-employed retirement plans, Traditional and Roth IRAs, and taxable brokerage holdings. Cash reserves (emergency fund), college savings accounts, experimental portfolios, and day-to-day cash balances are excluded. The purpose of this portfolio is to eventually create income and enable financial freedom.
Target Asset Allocation
Since my last update, I made a minor change to our target asset allocation by removing Emerging Markets as a separate added weighting as it now includes some huge companies and comprises nearly 20% of the Total World ex-US (Total International) asset class.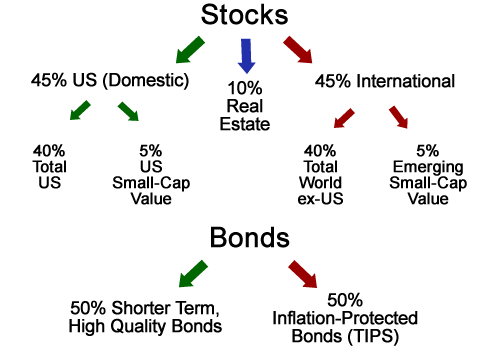 I replaced it with Emerging Markets Small Value, focusing on the smaller, less-popular, less-trendy companies in those emerging countries. I think this fits better as the small 5% slices were always meant to spice things up a bit with a little extra risk in exchange for the possibility of a little extra return.
In general, I pick asset classes that are likely to provide a long-term return above inflation, as well as offer some historical tendencies to be less correlated to each other. I don't hold commodities futures or gold because I am not confident in them enough to know that I will hold them through an extended period of underperformance (and if you don't do that, there's no point). Our current ratio is about 70% stocks and 30% bonds. Our investment strategy remains buy, hold, and rebalance. With low expense ratios and low turnover, we minimize our costs in terms of paying fees, commissions, and taxes.
Actual Holdings
Here is our actual asset allocation: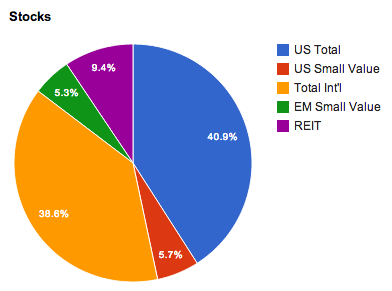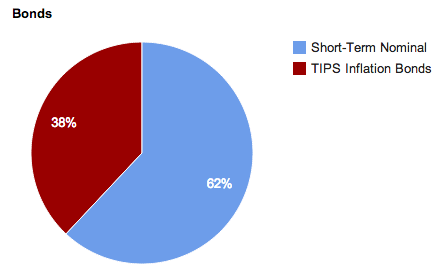 Stock Holdings (Ticker Symbol)
Vanguard Total Stock Market Fund (VTI, VTSMX, VTSAX)
Vanguard Total International Stock Market Fund (VXUS, VGTSX, VTIAX)
WisdomTree SmallCap Dividend ETF (DES)
WisdomTree Emerging Markets SmallCap Dividend ETF (DGS)
Vanguard REIT Index Fund (VNQ, VGSIX, VGSLX)
Bond Holdings
Vanguard Limited-Term Tax-Exempt Fund (VMLTX, VMLUX)
Vanguard High-Yield Tax-Exempt Fund (VWAHX, VWALX)
PIMCO Total Return Institutional* (PTTRX)
Stable Value Fund* (2.6% yield, net of fees)
iShares Barclays TIPS Bond ETF (TIP)
Individual TIPS securities
US Savings Bonds
For my US small-cap value allocation, I recently sold the Vanguard Small-Cap Value ETF (VBR) and replaced it with the WisdomTree SmallCap Dividend ETF (DES). The new ETF has holdings that are on average smaller and deeper value, but at a slightly higher expense ratio. I also added the WisdomTree Emerging Markets SmallCap Dividend ETF (DGS); I love that I've never heard of the companies that make up the Top 10 holdings of this fund. I think these two new ETFs do a good job of reaching into areas not well-covered by the huge, broad index funds (I couldn't find any overlap between VXUS and DGS at all). Each of them only makes up less than 4% of the total portfolio, so again they just add a little spice to the mix.
With our ~30% allocation to bond holdings, I admit to doing some yield-chasing while still maintaining a high credit quality and relatively short duration. I still don't like US Treasuries, the yields seem to be so low due to demand from countries and institutions that need safety and liquidity for their billions and trillions. In contrast, smaller individual investors can take advantage of higher effective yields from high-quality municipals, small stable value funds, and US savings bonds. I still like the inflation-protection of TIPS, although not nearly as much as in the past.
(Market commentary: Bond rates have been rising recently, but isn't that a good thing? I'm happy to have my bonds go down a bit if that is result from my stocks are doing well. My portfolio is doing great as whole. I'm keeping my bonds because they still lower my overall risk profile if stocks go back down. Rising rates mean I'll earn more interest on the money I invest in the future.)
With the volatility of the markets both up and down, I'm starting to think that for the purposes of early retirement I should only depend the income that comes off of this balanced portfolio (more stable) and simply hoping the principal keeps up with inflation over the long-haul. I don't want to be one of those retirees that check the stock quotes every day. The overall dividend yield of my stocks between 2-3% and the overall bond yield is a little over 2%. Gotta spend some more time looking into this.