There is a lot of uncertainty in investing, and it always seems like especially now. Buy and hold has been called dead many times. However, if you look carefully, you'll find that there are many people who have quietly grown their portfolio over the last decade using the boring principles of diversification, low-costs, and regular rebalancing. I would also add proper tax planning helps as well.
Here is some data from a WSJ article by Burton Malkiel (author of Random Walk Down Wall Street) that helps illustrates this. (Can't view the article? Use this Google the title trick and click the first link.) The article is from several months ago, but the S&P 500 index back then was almost exactly the same as yesterday: 1,193 vs. 1,195.
The chart below shows the growth of $100,000 invested at the start of 2000 until the end of 2009. As you can see, a 100% stock investment (in green) would have ended up at $93,717. Thus the term "lost decade for stocks".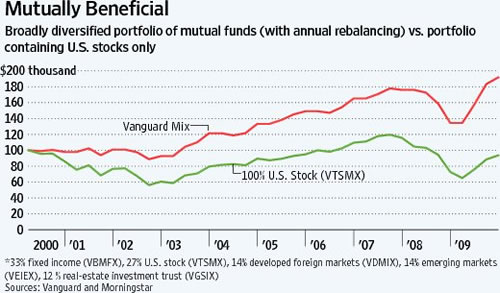 But what happens when you mix in some other assets, and rebalanced them annually? The red line is a portfolio consisting of 67% stocks and 33% bonds, all in low-cost index funds. The stock breakdown was 27% US, 14% Developed International, 14% Emerging Markets, and 12% REITs. The result was a ending balance of $191,859, which means an investor in 2000 could have, without special psychic powers, nearly doubled their portfolio over the same "lost decade".
The diversified portfolio above matches rather well with my own asset allocation. For one, my AA also has 50/50 US/non-US split plus a chunk in REITs. Although I started out 85% stocks/15% bonds, I am now closer to 75% stocks. I have also rebalanced annually to maintain that ratio, but I do feel that my portfolio has still grown past my contributions even though I haven't tracked my personal returns as well as I'd like.
Regular rebalancing is key. That is, keeping your target asset allocation by buying what is going down, and selling what is going up, in order to keep your desired risk profile. Both in early 2009 and last week, I was buying stocks. While there is debate on this, I believe that there is a reversion-to-the-mean effect that boosts your returns.