This an update for my investment portfolio, including 401(k) plans, IRAs, and taxable brokerage holdings. There have been only a few small changes since my last portfolio update. As always, this is our own personal portfolio and may not necessarily be completely applicable to anyone else.
Asset Allocation – Target vs. Actual
I separate the stock and bond portions for clarity. My target asset allocation remains the same: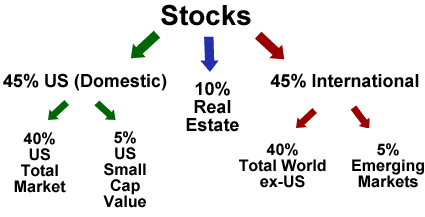 Here is my actual stock allocation, where it shows that I am slightly overweight US Total and will need do some light rebalancing.

My actual bonds allocation is not really worth making a chart for… the target is 50%/50% and I have 47% short-term nominal bonds and 53% inflation-protected bonds.
Stocks vs. Bonds Ratio

One way to calibrate your portfolio risk is with the balance of stocks and bonds within your portfolio. A few years ago my stock/bond ratio was 85% stocks/15% bonds, which corresponded to a formula of [Current age – 15]% in bonds. After the stock market plunge in 2009, I felt like I had to keep my stock portion high. Since the stock market has since recovered substantially and with the realization that I am possibly within 15 years of "retirement", I have started gradually becoming more conservative. I have been adjusting my target gradually to [Age – 10]% in bonds, which leaves me now at 77% stocks/23% bonds. However, I still hold mostly stocks.
Fund Holdings
Here are the actual investments that I am holding to represent each asset class, along with ticker symbols. * denotes selection due to limited 401(k) choices. The only significant change is that I now hold some shorter-term municipal bonds in my taxable account, in order complement my stable value holding and to make tax-efficient room for other stuff in my tax-advantaged accounts like REITs and TIPS. Munis also makes sense due to our current high tax bracket.
US Total Market
Vanguard Total Stock Market ETF (VTI)
Diversified S&P 500 Index Fund (DISFX)*
Fidelity Extended Market Index Fund (FSEMX)*
US Small Cap Value
Vanguard Small-Cap Value Index Fund (VISVX)
Real Estate
Vanguard REIT Index Fund (VGSIX)
International
Vanguard FTSE All-World ex-US ETF (VEU)
Emerging Markets
Vanguard MSCI Emerging Markets ETF (VWO)
Short-Term High Quality Bonds
Vanguard Limited-Term Tax-Exempt Fund (VMLTX)
Stable Value Fund* (3% yield on past purchases, 1.8% on new)
Inflation-Protected Bonds (TIPS)
iShares Barclays TIPS Bond ETF (TIP)
Individual TIPS securities
The overall expense ratio for this portfolio is in the neighborhood of .20% annually, or 20 basis points. That is a much lower hurdle to overcome than the average mutual fund expense ratio of over 1% annually.