I've already posted my target asset allocation, now here's my actual portfolio holdings. Again, these are my own choices, governed by the size of my tax-advantaged accounts like IRAs/403b/401ks, the brokerage firms that I use, and my preference of passive management and low fees. Even with the explosion of new blogs, I still don't see very many people sharing their actual holdings. I hope that if I share, then others will share as well. 🙂
Tax-Efficient Placement
One big change for me over the last two years is that I now run out of room in my IRAs and 401ks each year and now have money sitting in taxable accounts. Since each asset class is taxed differently, where you put your assets can make a big difference in your net return. As a result, I've moved some things around. Here's a handy graphic taken from a post about tax-efficient fund placement: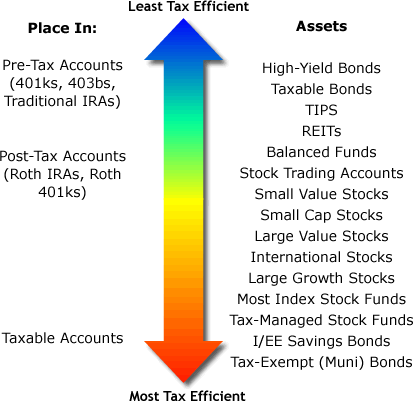 Stocks
US Total Market
I used to own Vanguard Total Stock Market Index Fund (VTSMX) but recently converted that to the ETF share version Vanguard Total Stock Market ETF (VTI) due to the lower 0.07% annual expense ratio. This fund tracks the MSCI US Broad Market Index, and typically holds the largest 1,200–1,300 stocks (covering nearly 95% of the index's total market capitalization) and a representative sample of the remaining stocks. It currently holds 3,391 different companies. All for $7 a year for each $10,000 hold.
In my 401k, since I have limited options, I hold a mix of 75% Diversified Stock Index Institutional Fund (DISFX) which is basically a S&P 500 fund and 25% Fidelity Spartan Extended Market Index Fund (FSEMX) as it tracks the entire market minus the S&P 500. Together, the track the overall US market very well, at only a slightly higher cost of a weighted 0.25%.
US Small Cap Value
Here, I still hold the Vanguard Small-Cap Value Index Fund (VISVX). I could convert to the Vanguard Small-Cap Value ETF (VBR) with identical holdings and a lower expense ratio of 0.14% vs. 0.28%, but since it is only 5% of my portfolio I haven't yet. In addition, there are good arguments for alternative ETFs such as iShares Russell 2000 Value Index ETF (IWN) or iShares S&P SmallCap 600 Value Index ETF (IJS). They each track slightly different indices and thus hold different stocks. Something to analyze deeper at a later time.
REIT
I still hold the Vanguard REIT Index Fund (VGSIX) as opposed to the Vanguard REIT ETF (VNQ). Both track the MSCI® US REIT Index. I hold this inside my IRA, so I'd rather just have full investment rather than worry about partial shares and such.
International / Total World excluding US
I used to hold Fidelity Spartan International Index Fund (FSIIX) but now hold the Vanguard FTSE All-World ex-US ETF (VEU) which tracks the FTSE All-World ex US Index and holds 2,239 stocks from around the world. There is the equivalent Vanguard FTSE All-World ex-US Index Fund (VFWIX) but since this is a bigger holding for me, the cheaper expense ratio makes a difference.
Emerging Markets
I converted to the Vanguard Emerging Markets ETF (VWO) from the Vanguard Emerging Markets Stock Index Fund (VEIEX). Even though my overall investment here is low, VEIEX has both a 0.25% redemption fee, and a 0.50% purchase fee, which is just too annoying to stay there. Another option would have been the iShares MSCI Emerging Markets Index (EEM), but it is both more expensive and has had more tracking issues. Here's a EEM vs. VWO comparison post.
Bonds
Short-Term High Quality Bonds
I used to own the Vanguard Short-Term Treasury Fund Investor Shares (VFISX) but it now only yields 0.41% with an average duration of 2.2 years. If you had an IRA at certain banks, you could buy a CD earning 2-3% over the same time horizon. It would be just as safe. There would be less liquidity, but I'm not really concerned about that. The CD would be even better because you can't lose what you put in.
I've actually gone ahead an put this portion of my portfolio in a stable value fund inside my 401k. I explored the risks and rewards of stable value funds, and while they are not of the utmost safety, the worst-case scenario is on the same order of the worst-case scenario of many short-term bond funds. My stable value fund is earning 3.5% for all of 2010.
I've also been looking at municipal bond funds such as the Vanguard Limited-Term Tax-Exempt Fund (VMLTX) and Vanguard Intermediate-Term Tax-Exempt Fund (VWITX) since they are mostly rated AA and above with interest being federally tax-exempt. If I lived in California and had a big bond allocation, I'd still consider a partial holding in the Vanguard California Intermediate-Term Tax-Exempt Fund (VCAIX) since the interest is higher and is exempt from both federal and CA income tax. I wrote about VCAIX in late 2009 when the yield was 3.49%. It's done quite well since then, although California's still got major issues to work out. If I lived in New York, I'd consider the same for NY funds.
Inflation-Protected Bonds (TIPS)
Here, the only thing to buy is either individual TIPS bonds or a mutual fund/ETF holding TIPS bonds. Usually buying individual bonds is risky because you aren't spreading the default risk across hundreds of issuers, but in this case every single bond is just as safe and backed by the US government.
I have my Self-Employed 401k at Fidelity, which allows me to buy individual TIPS with no commission (just bid/ask spread). I bought some longer-term TIPS with real yields of 2-3%, and they've been doing well since real yields have dropped since. In addition, I hold shares of the iShares Barclays TIPS Bond ETF (TIP) because I can trade iShares ETFs commission-free at Fidelity.
The Vanguard Inflation-Protected Securities Fund Investor Shares (VIPSX) was also considered, along with new TIPS ETFs that have different maturities such as the PIMCO 15+ Year U.S. TIPS Index ETF (LTPZ).