OptionsXpress.com (OX) is a online brokerage site that specialized in options and futures trading, but has since expanded their offering to be one-stop-shop – offering stocks, bonds, brokered CDs, and mutual funds. Like some of you, I signed up a while back when they were offering a fat bonus (very limited-time offer). Since I have an account, here's a user's review of the broker.
Application
The online application is of the usual brokerage sort, with questions about your job, trading style, and any potential conflicts of interest. You can fill in most of your details online but you must still mail in a signed form to start trading. There is no minimum opening balance required for a cash account ($2,000 min for margin), but you can fund initially via electronic transfer, wire, or check.
Commissions and Fees
Stocks and ETFs are $9.95 per trade (market or limit, up to 1,000 shares), which is basically average now in the discount broker world. Broker-assisted trades are no additional charge, which is nice. Mutual fund trades are also $9.95.
Where OX is more competitive is in the options trading area. On their lower tier (0–34 trades/quarter), you can get 10 contracts for $15 with no base rate. They say that the average options trader trades 20 times a year, 10 lots at a time. Here's their graphic how that stacks up: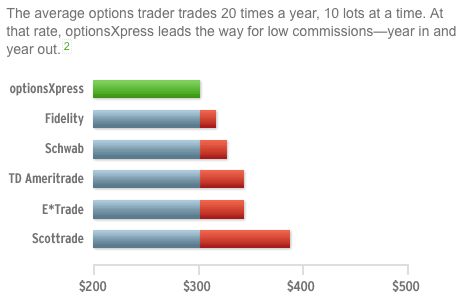 No minimum account balances, no account maintenance fees, and no inactivity fees. Streaming real-time quotes are also free.
Cash Management
OX has a basic and functional ACH funds transfer system for electronic transfers to a linked bank account, which is free for deposits and withdrawals. You can add additional linked banks online via the trial deposit method. All ACH deposit requests must be received by 3:30pm ET to be processed same business day. All other requests will be processed on the following business day. ACH deposits will be available for trading on the third business day after processing. If you send them actual bank statement, you can arrange for next-business day availability of funds.
Free checkwriting is available on accounts open at least 6 weeks with $5000 minimum equity balance.
Their FDIC-insured cash sweep account currently yields a tiny 0.02%, but sadly that's also about average for the industry right now.
Features
While they aren't the cheapest, here are some features that differentiate them.
MyOX
If you are a very active trader, you are familiar with proprietary software by software-based brokers. MyOX works inside a regular web browser, but still enables you to customize the trading interface with widgets that you prefer. The best way to describe it is if you use iGoogle where you can move around modules with drag-and-drop. You can have your watchlist, charts, RSS news fees, etc. Here's a screenshot of how I had mine set up: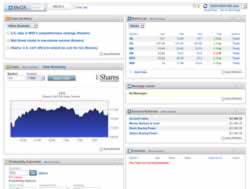 Customer Service
OX offers live chat Mon-Fri, 8am-10pm ET and Sat, 10am-2pm ET which is much later than market hours. Their general support line (888) 280-8020 is also open until 10pm Eastern. I don't live on the East Coast so I found this very convenient.
XpressRouter – Improved Order Routing
A big concern when you go with a discount broker is the getting the best execution of your orders. How do you know you couldn't have gotten $45.25 per share instead of $45.18? Times 100 shares, that's $7 right there. They use what they call XpressRouter to routing your trade between several options and get the best execution. NBBO is National Best Bid and Offer.
At optionsXpress, you can be sure to get the NBBO on any eligible trade. We guarantee the best price or we'll credit your commission. If you see a possible discrepancy, let us know immediately after you get the electronic confirmation of the execution. Our commitment is to provide the quickest execution at a reasonable price so you can trade with confidence.
$100 Sign-Up Bonus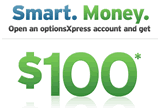 OptionsXpress has a current promotion offering new customers a $100 bonus if they open an account with at least $500 and make 3 trades with a year.
Offer is valid for one new Individual or Joint optionsXpress account opened and funded with at least $500 by US residents on or before December 31, 2011 at 11:59 CST, and having executed 3 trades within twelve months of account opening. To receive $100 bonus, account must be funded with at least $500 cash or securities transferred from a brokerage firm other than optionsXpress. The $100 bonus will be deposited into the new optionsXpress account within one month after meeting the terms and conditions of this offer. optionsXpress may charge the account for the cost of the $100 bonus should account fail to remain open with minimum funding (excluding trading losses) 6 months from the account open date.
Since their overall price structure isn't rock bottom, this bonus it will let you open an account and trade several options contracts for free to see if you like it.