After choosing your asset allocation, it is still important to think carefully about where to place each type of investment. After all, what you actually keep is your return after taxes. For example, a stock index fund that tracks the S&P 500 will have low turnover and primarily pay qualified dividends which are taxed at the lower long-term capital gains rate (max 15%). On the other hand, REITs and bonds tend to distribute a significant amount of their return annually as unqualified dividends, which are then taxed as ordinary income (max 33%). Therefore, you should try to take advantage of your tax-sheltered accounts as much as possible by placing the least tax-efficient assets there.
Below is a chart that shows the major asset classes sorted by tax efficiency. It is based on information from the fine books Bogleheads' Guide To Investing and The Four Pillars of Investing.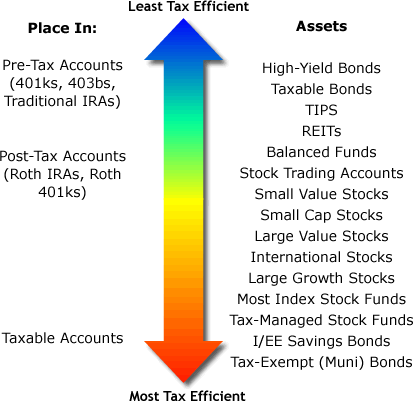 Let me clarify the chart above. You should start with the least tax-efficient assets and place them in your pre-tax accounts (Regular 401ks, 403bs, Traditional IRAs) first. Then the next least efficient assets should into the post-tax accounts (Roth IRA, Roth 401k). Only what is left after this should end up in taxable accounts.
In general, bonds should go into tax-deferred accounts, leaving stocks for your taxable accounts. There are even special "tax-managed" mutual funds which work hard to minimize any capital gains distributions and are designed specifically to be placed in taxable accounts.
This article is part of my Rough Guide To Investing.