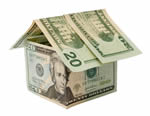 After the interest rate drama last week, I managed to lock in a refinance of my current 30-year mortgage (with 26 years left) which had a 4.75% fixed rate into a new 15-year mortgage at a 3.875% fixed rate. You'll probably see lower rates in ads and elsewhere, but it did come with negative points that offset my closing costs completely and then some. Anyhow, I wanted to run the numbers to see the potential financial benefit.
To simplify the numbers, I am just going to assume a new mortgage with a loan amount of $300,000. First, we have a 30-year fixed rate with a lower payment, but higher interest rate and longer period of paying interest. Now, we do have the option of making extra payments toward principal and making the loan end early. Alternatively, we have a 15-year fixed mortgage with lower interest rate but higher mandatory monthly payment. There are many calculators out there, but I still like the simple and familiar ones at Dinkytown.
The 30-year at 4.75% would have a monthly payment of $1,565, while the 15-year would have a monthly payment of $2,200. Now, what would happen if we simply paid the $2,200 towards the 30-year mortgage? Using the calculator, we would enter an additional monthly payment of $635. That tells us the 30-year plus extra mortgage would be paid off in 16 year and 5 months, requiring an additional 1.4 years and $36,000 in interest. However, the 30-year does allow me the flexibility to reduce my payment by $600 a month if needed.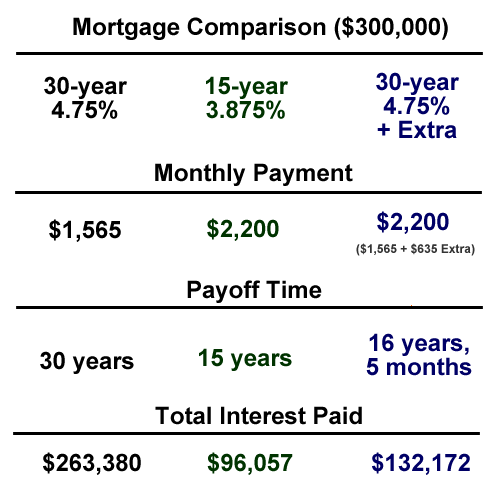 A note on interest paid. Lots of people simply look at how much interest is paid on a 30-year and compare it to a 15-year. It's a big difference! However, you have to remember that you could have done something the money saved each month from a lower monthly payment. Theoretically, if you went out and bought a bank certificate of deposit paying the same rate of interest as the mortgage, there would be no real difference. For example, currently Discover Bank
has a 10-year CD yielding 2.25% APY (see CD Rates & Calculator tab). This makes the true interest gap less than what it may appear. Still, there isn't anything available at anything higher than 4.75% or even 3.875%, so I'm still happy to pay off this house in 15 years.