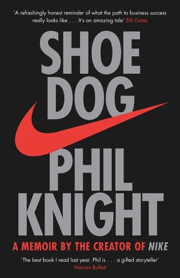 As a kid in the late 1980s, I admit that I yearned for a pair of Nike Air shoes. I'd doodle shoes with that AIR logo and visible air pocket. I still remember the day I finally got a pair. They were an ugly blue-suede color from the bottom of some bargain bin, but they were only $34.99 and they were mine.
As Nike was already huge by then, I never had any curiosity about the early years of Nike. I only started listening to Shoe Dog: A Memoir by the Creator of Nike by Phil Knight after seeing it mentioned as Warren Buffett's "favorite book of 2016" in his Berkshire Hathaway annual letter.
While I usually prefer reading physical books since I like to write notes and make highlights, this book seemed more like a story so I decided to listen to it as an audiobook. That turned out to be a good decision. (Right now, Audible is offering two free audiobooks as part of its free trial. As with all Amazon trials, it's easy to cancel.
The other book I picked was When Breath Becomes Air.)
Here are some quick notes that I took (less than usual due to it being an audiobook) along with some of my favorite quotes (you can mark notable places with the app and then go back).
Phil Knight was on the University of Oregon track team. He ran for fun and would have kept running even if he never owned a shoe company.
I'd been unable to sell encyclopedias, and I'd despised it to boot. I'd been slightly better at selling mutual funds, but I'd felt dead inside. So why was selling shoes so different? Because, I realized, it wasn't selling. I believed in running. I believed that if people got out and ran a few miles every day, the world would be a better place, and I believed these shoes were better to run in. People, sensing my belief, wanted some of that belief for themselves. Belief, I decided. Belief is irresistible.
He was a visionary, but not necessarily how you think. Knight first sold imported shoes from Japan – Tiger by Onitsuka. In fact, he only started Nike after Tiger threatened to pull his distribution rights. He didn't start with "Air Jordans" and "Just Do It" fully-formed in his mind. He was more of a warrior/competitor that just kept on fighting.
Nike's success was not at all guaranteed. Knight had to maintain a full-time job as an accountant while running his company on the side. There were many hiccups and struggles and lawsuits, each of which could have bankrupted the young company.
I'd like to remind them that America isn't the entrepreneurial Shangri-La people think. Free enterprise always irritates the kinds of trolls who live to block, to thwart, to say no, sorry, no. And it's always been this way. Entrepreneurs have always been outgunned, outnumbered. They've always fought uphill, and the hill has never been steeper. America is becoming less entrepreneurial, not more.
Knight never used this word, but he appeared to be more of an introvert than an extrovert. He wasn't a natural salesman or self-marketer. He didn't like advertising. He developed a strong core of extremely loyal people at Nike. He was not a micro-manager.
Don't tell people how to do things, tell them what to do and let them surprise you with their results.
Thoughts on becoming rich:
When it came rolling in, the money affected us all. Not much, and not for long, because none of us was ever driven by money. But that's the nature of money. Whether you have it or not, whether you want it or not, whether you like it or not, it will try to define your days. Our task as human beings is not to let it.
On luck:
Luck plays a big role. Yes, I'd like to publicly acknowledge the power of luck. Athletes get lucky, poets get lucky, businesses get lucky. Hard work is critical, a good team is essential, brains and determination are invaluable, but luck may decide the outcome. Some people might not call it luck. They might call it Tao, or Logos, or Jñ?na, or Dharma. Or Spirit. Or God.
On why he finally shared this personal memoir:
I'd like to share the experience, the ups and downs, so that some young man or woman, somewhere, going through the same trials and ordeals, might be inspired or comforted. Or warned. Some young entrepreneur, maybe, some athlete or painter or novelist, might press on. It's all the same drive. The same dream.
Finally, some career advice:
I'd tell them to hit pause, think long and hard about how they want to spend their time, and with whom they want to spend it for the next forty years. I'd tell men and women in their midtwenties not to settle for a job or a profession or even a career. Seek a calling. Even if you don't know what that means, seek it. If you're following your calling, the fatigue will be easier to bear, the disappointments will be fuel, the highs will be like nothing you've ever felt.
Another anecdote that showed his honesty was that although he regrets not being able to spend much time with his young children, he also admits that if he had the chance he would do the same thing all over again.
There are many other worthy highlights in this book. I definitely recommend Shoe Dog for people interested in the origin story of Nike, entrepreneurialism, global business, and as interesting autobiography.