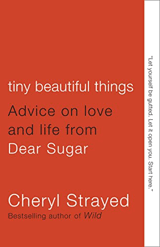 My favorite non-financial genre is nonfiction travel books, and after finishing the bestseller Wild: From Lost to Found on the Pacific Crest Trail by Cheryl Strayed, I quickly moved on to her compilation of life advice columns called Tiny Beautiful Things. As they were initially written anonymously, they were brutally honest yet compassionate.
Most people wrote to her in times of personal crisis, usually more emotional than financial, although money was often involved. Here are just a few of her insights and wisdom that I felt could be helpful:
Your assumptions about the lives of others are in direct relation to your naïve pomposity. Many people you believe to be rich are not rich. Many people you think have it easy worked hard for what they got. Many people who seem to be gliding right along have suffered and are suffering. Many people who appear to you to be old and stupidly saddled down with kids and cars and houses were once every bit as hip and pompous as you.
Every mother has a different story, though we tend to group them together. We like to think that partnered moms have it good and single moms have it rough, but the truth is that we're a diverse bunch. Some single mothers have lots of child-free time because their kids are regularly in the custody of their fathers. Some seldom get a break. Some partnered mothers split child-care duties with their spouses in egalitarian ways; others might as well be alone. Some mothers of both varieties have parents, siblings, and friends who play active roles in their children's lives in ways that significantly lighten the load. Others have to pay for every hour another person looks after their kids. Some mothers, single or partnered, can't afford to pay anyone for anything. Some can and do. Others can and won't. Some are aided financially by parents, or trust funds, or inheritances; others are entirely on their own. The reality is that, regardless of the circumstances, most moms are alternately blissed out by their love for their children and utterly overwhelmed by the spectacular amount of sacrifice they require.
You need to stop feeling sorry for yourself. I don't say this as a condemnation—I need regular reminders to stop feeling sorry for myself too. I'm going to address you bluntly, but it's a directness that rises from my compassion for you, not my judgment of you. Nobody's going to do your life for you. You have to do it yourself, whether you're rich or poor, out of money or raking it in, the beneficiary of ridiculous fortune or terrible injustice. And you have to do it no matter what is true. No matter what is hard. No matter what unjust, sad, sucky things have befallen you. Self-pity is a dead-end road. You make the choice to drive down it. It's up to you to decide to stay parked there or to turn around and drive out.
There is no why. You don't have a right to the cards you believe you should have been dealt. You have an obligation to play the hell out of the ones you're holding. And, dear one, you and I both were granted a mighty generous hand.
I could put most of the letters I receive into two piles: those from people who are afraid to do what they know in their hearts they need to do, and those from people who have genuinely lost their way.
Don't judge others. Don't feel sorry for yourself. Somehow this last quote keeps coming back to me. When we ask for advice, often we know the right path but are afraid to take it.