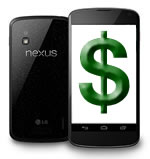 The other day while I was trying to help someone find a cheaper cell phone plan, I realized two things:
There are way too many different options these days. Most are MVNOs that buy bulk minutes and data from the major providers, and many of those are simply clones of each other.
Trying to find the best cell phone plan is similar to the efficient frontier concept in investing. There, you try to achieve the highest return for a given amount of risk, or you try to minimize the risk you have to take in order to get a given return. Anything else is sub-optimal; here's a quick chart illustration.
In the case of cell phone plans, you're either trying to maximize features (coverage, phone selection, minutes, texts, data allowance) for a given budget, or more often you're trying to minimize the cost for the features that you "need"/want.
I've mentioned several good deals from various providers, covering everything from a $2.50 a month basic plan to simply saving $10 a month on your "name brand" major provider plan via corporate or student discounts. Below, I've placed them all on a single chart of cost vs. features. This is a work-in-progress, but hopefully this will help folks find better alternatives and save some serious money over time.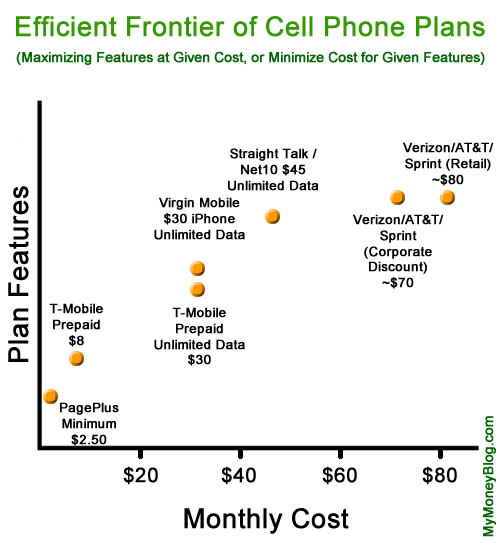 The Details
Details on Page Plus Cellular Basic Plan. This plan is best for super-light users or emergencies, as the $30 a year ($2.50 a month) option gives you under 300 minutes a year (25/mo avg). No data included.
Details on T-Mobile Prepaid Basic Plan. This plan costs a bit more at $100 a year ($8.33 a month), but gives you 1,000 minutes good for an entire year (83/mo avg). No data included.
Details on T-Mobile $30 Smartphone Plan. Plan includes unlimited data but only 100 minutes per month. Ideal for tech-savvy people who don't mind making voice calls over data. Use unlocked GSM phones or buy direct from T-Mobile.
Details on Virgin Mobile $30/$35 Smartphone Plan. Includes 300 minutes and unlimited data per month, but you have to buy the phone direct from Virgin Mobile. iPhones get $5 off the usual $35 cost with auto-pay.
Details on Straight Talk / Net10 $45 Smartphone Plan. Unlimited talk, text, and minutes for $45 a month. Bring your own phone using a SIM card using either a AT&T or T-Mobile compatible GSM phone. AT&T sim card sales were discontinued, so you have to buy one on the secondary market like eBay at a slight markup. Net10 Wireless is a sister company that also has T-Mobile and AT&T sim cards available and a $45 unlimited plan with auto-refill.
Details on Verizon, AT&T, Sprint, T-Mobile Employee and Student Discounts. Check if you are eligible for discounts based on your work or student status using just your e-mail. You can keep your existing plan, the discount just gets added on. Save up to 20%.
The benchmark price is the retail price for a traditional postpaid plan offered by one of the major providers that own their own cell towers: Verizon, AT&T, Sprint, and T-Mobile. Currently these run about $80 a month for a single smartphone line.
Honorable mention: Ting.com is a Sprint MVNO that offers a pay-for-what-you-use style of plan, which makes it hard to plot on the chart. This plan can be a good value for those with moderate usage patterns and/or multiple lines, but you are limited to certain off-contract Sprint phones (no iPhones) or buying an unsubsidized phone direct from Ting.
I'm sure I've missed a few, so feel free to share what other plans offer good bang for the buck in the comments.