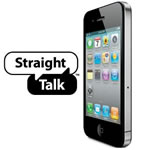 October 2013 Update: "Unlimited" has been clarified to mean 3G/4G data speeds for 2.5 GB per month, throttled to 2G data speed after that. Both AT&T and T-Mobile SIM cards are now available, with the newer ones allowing 4G / LTE speeds if you bring your own 4G HSPA+ / LTE-compatible phone. Price dropped to $6.99 with free shipping. See screenshot below.
You can also now buy the iPhone 4 ($200 refurb) and iPhone 5 ($400 refurb) directly from StraightTalk now at reasonable prices. iPhones sold by Straight Talk are CDMA and work on Verizon networks and their wider coverage. Note that the CDMA iPhone 5 comes factory GSM unlocked as well, so you can even switch to AT&T with the SIM cards above. Remember these come with no contract and also go with the $45 unlimited plan. Details below.
Here's a way to get your iPhone on a cheaper prepaid plan with unlimited talk, text, and data. Part of my cell phone plan optimization chart.
Straight Talk, a prepaid MVNO that is a joint venture between Tracfone and Wal-mart, is now offering the ability to buy Straight Talk SIM cards
that you can pop into any AT&T-compatible, T-Mobile-compatible, or unlocked GSM phone. For the iPhone 3G and 3GS, buy the regular SIM card. For the iPhone 4 and 4S, but the micro SIM card (shown below). For the iPhone 5 and 5C and 5S, buy the micro SIM card and this nano SIM cutter which will cut it to the correct size. Right now, all SIM cards are $14.99 price drop! $6.99 with free overnight shipping (must choose free overnight shipping option explicitly).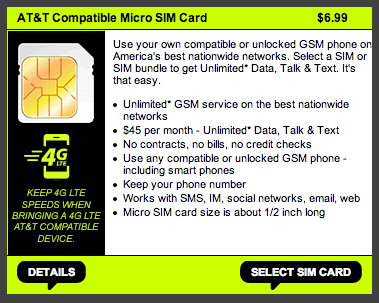 For $45 a month you get unlimited minutes, unlimited text, and unlimited* data with no contracts and no credit checks. So you can bring over any AT&T iPhone that is no longer in a contract (it does NOT need to be unlocked or jailbroken!), and you'll still be using the AT&T or T-Mobile network with 3G and even 4G (HSPA+ only) data speeds. You'll need the $45 a month plan card to activate the SIM, as that is the only plan that works with the SIM card. Unlimited means 3G/4G data speeds for 2.5 GB per month, throttled to 2G data speed after that. (If you want to stream Netflix videos all the time, this is not the plan for you.)
To recap (thanks to reader Ivan):
Go to straighttalksim.com.
Buy a SIM card (micro for iPhone 4/4S/5, regular for 3G and 3GS) for $14.99. iPhone 5 will need to be trimmed down to nano-SIM size. You will also need a $45 unlimited plan card to activate your SIM, which will include your first month of service.
Activate new sim card by calling in and getting a new number or porting old number (have your old phone company info ready)
Install SIM on iPhone and wait for activation process to complete by giving it maybe an hour to a couple hours.
You can find cheap off-contract iPhones at Cowboom.com, such as the iPhone 4 AT&T or iPhone 4S AT&T that is compatible with this plan.
The Verizon iPhone 5 actually comes GSM unlocked from the factory, so you can also use those with Straight Talk.
After activating and making sure you like the $45 a month plan, you can buy a 3-months-at-once Unlimited card for $126 at Walmart, shaving another $3 off per month from the regular price.
Frequently Asked Questions
After reading the 250+ comments below, here are some common questions and answers:
Can I use an iPhone 3G or 3GS on Straight Talk?
Yes. These were only on AT&T and work without being unlocked or jailbroken. Follow the directions above and buy the regular sized SIM card.
Can I use my Verizon or Sprint iPhone on Straight Talk?
Yes to the Verizon iPhone 5, which comes GSM unlocked from the factory. No to the Sprint iPhone 5, which is only GSM unlocked for international use. No to both Sprint and Verizon iPhone 4 and iPhone 4S.
I bought and activated the SIM. How do I get the internet and text messaging to work on Straight Talk?
If you are having issues, you will need to change your phone's APN settings to Straight Talk settings. On an iPhone, visit the website "http://unlockit.co.nz" on your phone's web browser (not computer!) when connected to WiFi. This will allow you to change your APN settings easily. Click "Create APN" and choose the "Straight Talk" option. You don't need to jailbreak your phone if you are happy with having data and text messaging.
How do I activate MMS on Straight Talk?
If you want to enable MMS (multimedia messaging services) which just adds video and picture messaging, it's a little more complicated but you have a few options. First, you can "jailbreak" your phone. This is not illegal but it will void your Apple warranty (possibly expired anyway). The details on this are constantly changing, so search on Google for the current options. An "untethered jailbreak" is preferable. Alternatively, you can manually edit your phone's plist settings using directions provided here and here. Finally, if you are running iOS 6, there is what is called the "sim swap trick" where you reveal some hidden settings by temporarily putting in a T-Mobile SIM card (doesn't need to be activated, you can buy one for $10 or less). Here is one set of directions.