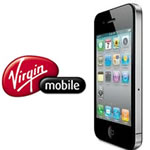 Price drop! You can now buy an 8GB iPhone 4 for only $199.99 from Virgin Mobile. Even after learning about the new iPhone 5S, in my opinion the iPhone 4 is still not that outdated and still works fine with nearly every app out there.
Their Beyond Talk plans at just $30 a month will get you 300 voice minutes, unlimited text messages, and unlimited data (throttled after 2.5 GB each month). To get the $5 discount, you must sign up for automatic monthly payment with a credit card, debit card or PayPal account. No contract.
Virgin Mobile is a Sprint MVNO which means your coverage is coming from Sprint towers. Compared to a regular Sprint plan, paying $200 + $30 a month can save you more than $500 dollars over a 2-year contract when compared with paying even $0 for the phone and $60+ a month for service.
For $50 a month, you can get unlimited minutes. Here are all the plans: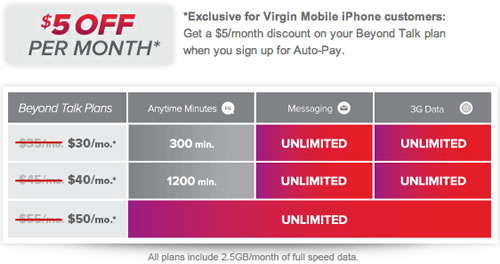 The site also suggests that you don't have to pay those government taxes and fees that amount to ~$5 a month on most postpaid plans, although you may be subject to sales tax:
All of the Beyond Talk Plans are inclusive of taxes and surcharges. However, we collect sales taxes on all Top-Up transactions for all services that we process directly and, in certain states, we collect regulatory fees. Retailers are responsible for collecting sales taxes and, in some states, regulatory fees for Top-Up transactions that they process.
Unlimited Minutes + Data for $45/month from Straight Talk Prepaid
Have a used or out-of-contract iPhone? Check out the Straight Talk SIM with iPhone plan, where you switch SIM cards and bring over your AT&T iPhone and get on their $45 a month prepaid plan which includes unlimited minutes, text, and data. Since it's prepaid, government taxes and fees are already included as well.
Still in an iPhone contract (any carrier)? Check if you are eligible for a student or employee discount, including possible savings just for being a credit union member. You can apply these for a discount on your current plan, even in the middle of a contract.