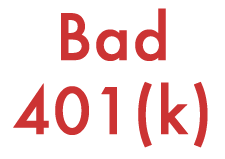 Along with other factors, new fee disclosure requirements for 401(k) plans have brought a lot of attention recently on "bad" 401(k) plans. These are plans with little or no employer match, higher-than-average fees, and/or limited investment choices.
I've gotten a few questions from readers who wonder if they should stop contributed to their subpar plans completely? As with most things, the answer depends. But here are some factors that I'd consider first.
Can You Save Better Elsewhere?
Depending on your situation, it may be better to put money away in other tax-advantaged vehicles like a Traditional or Roth IRA instead of your 401k/403b/similar plan. If you plan on socking away $5,000 a year, that is under the IRA annual contribution limits. Alternatively, if you have self-employment income you can look into a SEP-IRA, SIMPLE IRA, or Self-Employed 401k plan where you can choose the custodian.
Bad 401(k) Now, Awesome Rollover IRA Later?
According to the Bureau of Labor Statistics, the median employee tenure is less than 5 years. Even workers in "management, professional, and related occupations" had median tenures of 5.5 years. In other words, these days people don't stay in their jobs very long. (Of course, some people may stay in their jobs for 30 years.)
When you switch jobs, you're free from the bonds of your crappy 401k plan and can roll it over to a new provider with low fees and great investment options. Very few plans are so bad that you wouldn't endure five years of mediocrity in exchange for 20-50+ years of precious tax advantages.
401(k) Investment Fees Are Trending Downward
Total plan costs for 401ks have dropped over time, albeit slowly:
According to the 13th edition of the 401k Averages Book, small plan costs fell from 1.47 percent to 1.46 percent in 2012, while large plan costs fell from 1.08 percent to 1.03 percent. Expenses for small plans were between 0.38 percent and 1.97 percent, while large plan expenses ranged from 0.28 percent to 1.41 percent.
In terms of mutual fund expenses, these have also been dropping per this ICI study:
In 1998, 401(k) plan participants incurred expenses of 0.74 percent of the 401(k) assets they held in equity funds. By 2012, that had fallen to 0.63 percent, a 15 percent decline. The expenses 401(k) plan participants incurred for investing in hybrid and bond funds have fallen even more, by 19 percent and 23 percent, respectively, from 1998 to 2012.
Do The Best You Can With What You've Got
As part of this gradual improvement, most plans have added at least one lower-cost index fund option. For a while, the only decent option my 401k plan was an S&P 500 index fund with a 0.30% expense ratio. Sure, that's three times higher than what I could have gotten on the open market from Vanguard/iShares/Schwab, but it was good enough especially given the 3% employer match. I would just use my other savings in IRAs and Solo 401ks to buy the other asset classes I wanted.
Dealing with Small Employer Plans
At least in my experience, the worst plans seem to be from smaller employers. This is because with large groups of employees, the juggernauts like Vanguard and Fidelity can make enough money from the billion-dollar balances though mutual fund fees that they can cover all the administrative things like legal compliance and mailing out statements. Smaller providers need to get the money from other sources, and often that means sucking it out of the employees via higher fees and revenue-sharing agreements with expensive actively-managed funds.
If it's a small plan, then hopefully you can influence the person who choses the plan provider. If you're just a worker bee, then hopefully in several years you'll either be somewhere else (rollover!) or you'll be promoted to management where you do have a say :). There are an increasing number of providers that specifically target small employers and also have reasonable fees, such as Sharebuilder 401k.
In-service Withdrawal
I see this one mentioned a lot, but I've yet to meet anyone with a plan that actually allows it. If your plan documents allow you to take an "in-service withdrawal", then you can roll over your 401k balance into an outside custodian while maintaining your employment. If only this feature was required to be included in all plans…