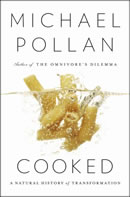 I'm roughly halfway through Cooked: A Natural History of Transformation by Michael Pollan. Although the book covers a variety of topics ranging from chemistry to religion to anthropology, the overarching theme is examining the practice of cooking meals for yourself (and your family).
Cooking food has become one of our most outsourced tasks. Everyone is busy. But is letting huge for-profit corporations prepare what we eat really worth the time savings if it costs us our health? Consider what studies have found:
When we cook meals ourselves, we eat less than when we outsource to frozen meals or restaurants.
Obesity rates are inversely correlated with the amount of time spent on food preparation.
Regular cooking is correlated with superior health and longevity.
Poor women who routinely cooked tended to have a more healthy diet than richer women who did not.
In the book, food industry expert Harry Balzer (who knows exactly how often we actually eat out, not just how much we admit to… which is a lot!) put forth some insightful diet advice:
Cook it yourself. Eat anything you want – just as long as you're willing to cook it yourself.
Essentially, eating unhealthily these days is mostly the byproduct of eating out, including meals-in-a-box and frozen dinners.
There are many other potential benefits of cooking for ourselves, stay tuned for a full review. Together, I'm hoping they'll convince me to start cooking regularly again!