Building upon the idea of investing in broad markets, next up is Modern Portfolio Theory. This is another advanced topic that entire careers can be built around, but here is my attempt to explain it in one quick digestible chunk.
Risk vs. Reward
As far as investing goes, the most basic component we have is cash. If we invest it in a Treasury bill from the government (as riskless as possible), then we will end up with a return after inflation of zero. You just keep up with inflation. No risk, no reward. In order to increase our reward we, must take on more risk. But it's not a linear relationship. We want to find the mix of investments that offer the best mix of risk and reward. So again we turn to history and whip up some math. (I'll go easy on the numbers here.)
Reward = Return
The idea of reward is usually represented by the historical average annual return of the investment. Sounds good to me.
Risk = Standard Deviation
The idea of risk has many possible definitions. Stocks are seen as riskier as bonds, because their prices have historically fluctuated much more wildly. For example, for domestic stocks, your best year would be +39% while your worst year would be -28%. In contrast, for a broad bond portfolio, your best year would have been +31% while your worst year would be -8%. (Source: Vanguard) A mathematical way to measure this volatility is standard deviation. The larger the standard deviation, the higher the risk.
Mix 'Em Up
An asset class is a group of investments that exhibit similar characteristics. If we plot their historical returns vs. historical standard deviations, we might get something like this: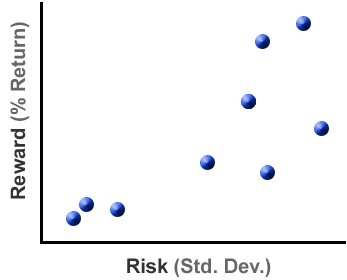 One dot might be the S&P 500. Another dot might be 1-Year Treasury Bonds. Now, what if we starting mixing them up into in various ratios. Like taking 50% S&P 500, 25% US Small Cap, and 25% 5-Year Treasury Bonds. We'll get a whole lot more dots, err… data points: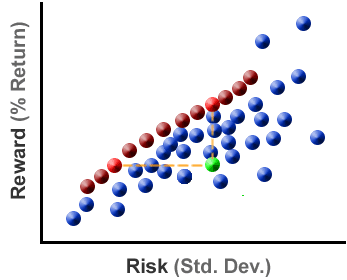 (Reference: IFA.com) The red dots form what is known as the Efficient Frontier. Why is it called that? Because it's the only place you should want to be. 🙂 Take the bright green dot, which could represent any non-red dot. Why would you want to be at that mix of risk and return? You could simply
(A) move left on the chart to a red dot, where you get the same level of return, with much less risk, or
(B) move up on the chart to a red dot, where you get the same level of risk, but with much higher return.
Model Portfolios: Why Aren't They All The Same?
Whenever you see a model asset allocation portfolio, chances are that they are constructed to be relatively "efficient" in terms of maximizing the reward/risk ratio. But if we take this theory above to the extreme, one could conclude that for each level of risk or return desired, there is one single, best portfolio mix. So why don't we just figure that out and be done with it? The engineer in me wants that nice concrete answer.
Here are a few reasons why this is dangerous:
The Efficient Frontier is based completely on the past. Again, should be expect the next 50 years to mirror the last 50 years? Correlations change. What are the fundamental factors that will persist, and how do we find them?
The Efficient Frontier is always shifting. Every year there is new data, and the "ideal" portfolio changes. What was ideal in 1984 isn't now. Do you try to predict the movement of the frontier as well?
There are limitless asset classes, and investments to track such asset classes, to choose from. For example, some people regard Real Estate Investment Trusts (REITs) as an asset class, while others do not.
"Real life" costs like management fees and commissions are not taken into account. For example, some asset classes like Emerging Markets cost more to own than others. Tax efficiency may also be important.
For each model portfolio, each creator must balance all of these concerns. Total agreement is rare, so all we can do is listen to each of their arguments and make our own decisions.
Read more: Index of Posts On Building My Portfolio