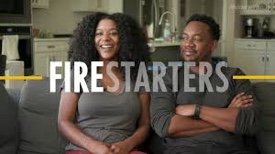 I enjoyed watching all 14 YouTube videos in the FIRE Starters interview series by Marketwatch. The videos were well-edited, in that they averaged only about 5-7 minutes each but still explained the individual and/or family's unique path to financial independence. You can watch a single video during any small break, or you could watch them all in about an hour and a half. The profiles usually covered the initial spark, overall occupation and salary range, age timeframe, and a monthly budget breakdown. Some of the videos follow the same person(s) a couple of years apart (before and after the pandemic began).
Here a few embedded video examples (might not show up in e-mail):
A few observations:
Work. I saw a nurse, flight attendant, hourly IT consultant, lawyer, and energy trader. People who pursue Financial Independence are more likely to have an above-average income, sure, but are they also more likely to be paid on an hourly or shift basis? Maybe when there is a direct link between trading your time (life) for money, you quickly realize the power of dialing up and down your hours. Use the difference between income and spending to buy productive assets and create an supplemental income stream, and those are the primary variables of financial independence.
Possibilities. Seeing how other people have customized their lifestyles helps you visualize your own path. The more examples the better. Don't blindly follow the perceived default of 40-50 hours a week times 40 years. You don't have to spend like your friends. You don't have to work the same hours as your friends. You might live in a tiny 500 sf urban condo. You might live on an off-grid 10-acre farm. You might not have kids. You might have 5 kids. You might invest in stocks. You might invest in real estate. You could work full-time, 50% time, or 8.562% time. There are so many ways to play the game.
FIRE is just a catchy but imperfect acronym. As someone who started on this journey before "FIRE" was a popular acronym, I'm not sure why "FIRE" is so catchy. I'd say 80% of successful FIRE folks end up saying "I really just focus on the Financial Independence part" and not the "Retire Early". So why bother with the RE part? The word "retire" evokes a very specific idea, while "financial independence" doesn't force itself to be black or white. "Grey" semi-retirement may offer a better path, allowing you to work less and live more while you are young and healthy.
The first $10,000 is the hardest. As I've said before… Only a small percentage of the population can save up $10,000. Even having that amount of money can change your life. If you can save up $10,000, you can save up $100,000. If you can save up $100,000 and add some time and productive investments, you can reach $1,000,000. The most important thing is to start. Let these videos inspire you.