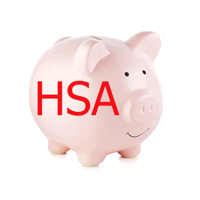 It's open enrollment season, and now roughly 50% of you will enroll in a high-deductible health plan. That means that you are also eligible to contribute to a Health Savings Account (HSA), which has triple-tax-free benefits: tax-deductible contributions, tax-free earnings growth, and tax-free withdrawals when used for qualified medical expenses.
There are two ways to treat your HSA – as a spender or an investor. As a spender, you contribute to the HSA, grab the tax-deduction, and then treat it like a piggy bank and spend it down whenever you have a qualified healthcare expense. You don't have that annoying "use-it-or-lose-it" feature of Flexible Spending Accounts (FSA), and most offer FDIC-insurance on your cash.
As an investor, you are trying to maximize the tax benefits of HSAs but keeping the balance as large as possible and buying long-term (but more volatile) investments like stocks. If you have the financial means, you would max out the contribution limits ($3,600 for individual and $7,200 for family coverage in 2021) and then pay for your healthcare expenses out-of-pocket instead of withdrawing from the HSA. (The advanced trick: keep a "forever" digital PDF copy of all your healthcare expenses. You can still withdraw the amounts of all those expenses tax-free at any time in the future, even decades later.)
Morningstar has a very detailed review in their 2021 Health Savings Account landscape report (e-mail required). After reading through the entire thing, my take is that you really only need to consider the two best HSA plans: Fidelity HSA and Lively HSA.
Fidelity and Lively HSA for spenders. Both have the least fees and a safe place for your cash. Others HSAs have maintenance fees, minimum balance requirements, and more "annoyance" fees.
No minimum balances.
No maintenance fees.
No paper statement fees.
No account closing fee.
FDIC-insured cash balances with tiny APYs in today's environment.
Fidelity and Lively HSA for investors. Both feature a low-cost way to invest your contributions for long-term growth:
No minimum balance required in spending account in order to invest.
Offers access to all core asset classes.
Offers free self-directed access to ETFs, individual stocks, bonds, and mutual funds.
Offers "guided portfolios" for hands-off automated investing.
If you want access to a cheap all-in-one mutual fund, Fidelity offers the institutional shares of their Fidelity Freedom Index mutual fund line-up with an expense ratio of 0.08%. Lively charges a higher expense ratio than Fidelity on its "guided portfolio" robo-advisor investment options. Morningstar dinged Lively for this, but they didn't really talk about the fact that Lively also offers a free brokerage window with TD Ameritrade. You can invest in any ETF with zero commissions at both Lively/TD Ameritrade or Fidelity, including rolling your own DIY portfolio using index ETFs.
A simple Vanguard ETF portfolio might be 50% US Stocks (VTI), 30% International Stocks (VXUS), 20% US Bonds (BND). The total weighted expense ratio of such a portfolio would be less than 0.05% annually and fully customizable for the DIY investor. Both accounts essentially cost nothing above the expense ratio of the cheapest ETFs you can find – you really can't ask for more than that!
(How do they make money? Your employer has to pay a fee to HSA providers. It's still much cheaper for them than your old full-price health insurance premium, of course.)
Bottom line. Both Fidelity HSA and Lively HSA are excellent options for your Health Savings Account funds. There isn't that much to separate them, but if you already use other Fidelity products, the Fidelity HSA would be quite convenient. Lively is an independent HSA provider with a modern feel and a good history of customer-friendly practices and service.
(Disclosures: I am not an affiliate of Fidelity (although I would if they had such a program). I am an affiliate of Lively and may receive a commission if you open an account through my link. Thanks for your support of this site.)