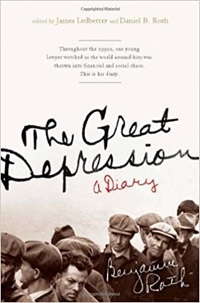 Benjamin Roth was a lawyer in Youngstown, Ohio during the Great Depression and kept a regular diary of his impressions during the era. The diary was required reading for his son who also became a lawyer at the firm he started, in order to understand what their clients went through. After the recent crash, it has now been published as a book called The Great Depression: A Diary.
The book is primarily a straight transcription of the original handwritten journal, with a few editor's notes to provide a little additional background when needed. Each entry is dated, and it is very interesting to see the first-person perspective unfold over time. Indeed, imagine a "blog" back then and you'd get this. Roth was not an economist or historian, and simply wrote down what he saw.
Historical Similarities
It is easy to find many similarities between the recession back then and now. The stock market and real estate market boomed, speculation was rampant, and then it all collapsed. Banks were stuck with mortgages that nobody could afford to keep up with, and foreclosures were everywhere. Unemployment was very high, although it was 25% back then as compared to 10% now.
[9/19/32] It looks as tho the Democrats will win because everybody wants a "change".
Sound familiar?
Roth considered himself a Republican, and did worry a lot about "a shift towards socialism" and inflation always being around the corner. The government did end up spending a lot of money to stimulate the economy, although not exactly the same way as now. On the other hand, many things that seemed like radical changes back then are things that we almost take for granted today – including new institutions like the FDIC to provide bank deposit insurance, the SEC to regulate investments, and even Social Security.
Historical Differences
Throughout the diary, Roth is always talking about how numerous banks failed or re-opened temporarily only to close again due to rapid withdrawals. This led to even the strongest banks putting very tight restrictions on withdrawals (i.e. max 5% of deposits). Without something like the FDIC, people ended up selling their account balances for 40 cents on the dollar because they needed the money immediately or were afraid they'd never see it again.
Personal Finance & Investing
Roth often wrote about personal finance and investing as well. He really like the idea of saving up a lot of cash during boom times, and then investing it all at the "bottom" after a crash, although he gradually seemed to realize that predicting the exact bottom was impossible and that simply holding it for the long term might be more reasonable.
In normal times the average professional man makes just a living and lives up to the limit of his income because he must dress well, etc. In times of depression he not only fails to make a living but has no surplus capital to buy stocks and real estate. I see now how important it is for the professional man to build up a surplus in normal times. […] His practice suffers and he has no chance of rising above the level of the ordinary practitioner who lives from day to day and from hand to mouth.
[5/9/1932] Those men who were wise enough to sell during the boom and then keep their funds liquid in the form of government bonds, etc. were not farsighted enough or patient enough to wait almost three years to re-invest. Most of them re-invested a year or more ago and now find stock prices have sagged to 1/3 of what they were when they thought they were buying bargains.
Of course, back then there was still the CNBC equivalent of various economists and business leaders sharing their "future economic outlook". Roth recorded their predictions and always seemed to come back with a later follow-up note "…the predictions were wrong." Some things never change!
If I were to levy a criticism of this book, it would be that it is more of a list of his observations, as opposed to his personal actions. For example, he often mentions how local Bank A or Bank B has failed or is restricting withdrawals. But Roth doesn't actually share where he keeps his money, if he has moved it due to fear, or if he has had problems withdrawing his own deposits. He doesn't share his personal investments, even though he records the share prices of many companies regularly. This ends up making the trip to the past a bit more dry than it could have been, but it was still a fun and enlightening trip to take.