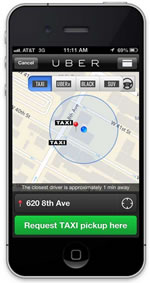 Update: Get over $100 in additional free ride credit from competing car services here!
Uber is a service that allows you to summon a ride via a private car or taxi using just your smartphone. All payment including tip is put on your credit card via the smartphone app, making it a cashless transaction. Your smartphone knows where you are, so you can tell how far away the nearest car is as well as estimate your total fare ahead of time.
There are a few different flavors (from cheapest to most expensive): UberX, UberTAXI, UberVAN, UberBLACK (black town car), UberSUV, UberLUX. UberX involves private individuals driving their personal cars, and recently announced price cuts in 36 cities making them 25% cheaper than taxis.
Right now new users can get $30 off their first ride by signing up for a new account using this invite link: https://uber.com/invite/uberMYMONEYBLOG. This is triple the usual $10 offer for a limited time, and contains my personal referral code uberMYMONEYBLOG for which I'll get a free ride as well. Works anywhere in the USA. Good for all ride options.
(You can no longer stack multiple promo codes on top of each other.)
Bonus: Get $25 credit towards any hotel stay booked through the Hotel Tonight app. Sign up online at this link with promo code JPING2 for $25 in credit (new customers only). Then download the Hotel Tonight app (Apple or Android). More info here.