The idea that as people earn more, they tend to spend more as well has been termed lifestyle inflation. Derek Thompson in this Atlantic article illustrates this concept using data from the Bureau of Labor Statistics. A family led by a high-school graduate has average annual spending of $35,000. A family led by a Bachelor's degree holder earns and spends nearly double that at $63,000. Yet both groups spend about 50% of their income on housing and transportation, much like the average household: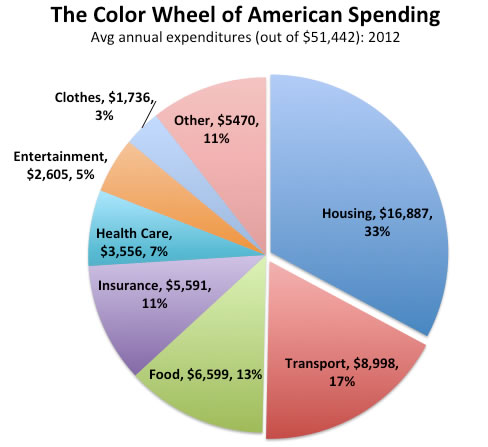 Families with radically different incomes—from lawyers and doctors down to high-school dropouts—all spend about half of it on homes and getting around, which suggests an historically tight relationship between marginal income growth and marginal spending growth on real estate and transportation. You get a raise, you shack up with roommates. You get another raise, you get nicer studio. A bigger raise and you move out to the suburbs and buy a house—commensurably increasing your spending on transportation (bigger car + gas).
We earn more, and we use that extra money to buy bigger houses, nicer cars, and more gas. This blog talks a lot about financial independence, and for most people early retirement is all about your savings rate. Most people spend over 95% of what they earn (source). Early retirement involves spending closer to 60%.
However, we tend to hang out people of similar income and thus we are pulled into "keeping up with the Joneses". Even if you earn a comfortable income that is well above average, lifestyle inflation can kill any dreams of early retirement. Focusing on managing the big targets, housing and transportation costs, can help.
See also: Your Entire Financial Life in One Deceptively Simple Chart