Time for fun with charts! A famous chart in the early retirement community is The Crossover Point from the book Your Money or Your Life, which shows that you've reached financial independence when your investment income equals your monthly expenses: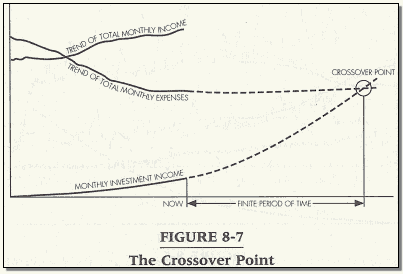 Fellow blogger Adrian of 7million7years also shared a related chart from Chris Han of Quora, where wealth is the shaded area between your income and expenses: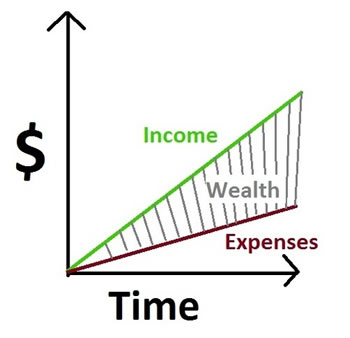 Specifically, if you plotted all your income and expenses over time, the shaded area between would the amount you've saved your entire financial life. Bigger shaded area, bigger nest egg.
(Math nerds: The units of income are dollars/time, i.e. $50,000 per year. Therefore, the area under the curve – integrals anyone? – is indeed dollars. If you measured the area under the curve for the green line, that would be all the money you've ever made. Do the same for the red line and that'd be all the money you've ever spent. The difference is what you've saved. Ignoring investment returns, that is indeed your wealth!)
The Problem
I've worked with people making $30,000 a year, and with those making over $300,000 a year. In both places, there are folks working until they're past 65+ and still worrying about retirement. I suspect this is why: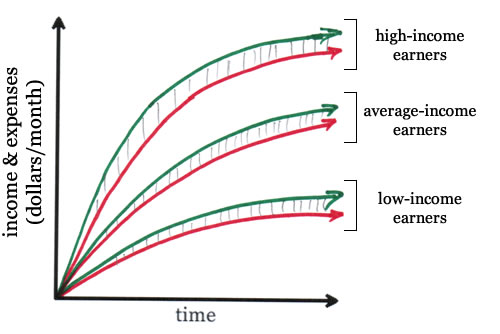 See the problem? Expenses tend to rise with income (lifestyle inflation), so that the size of the wealth wedge tends to stay the same! Sure, your house may be bigger and your car may park itself, but if their chart looks like this, they would all end in the same place if they faced extended unemployment: BANKRUPTCY.
The Solution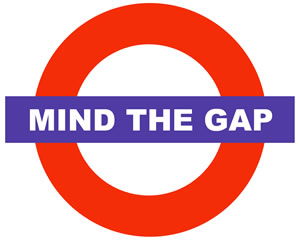 You have to mind the gap between income and expenses. This is another one of those simple but hard principles of personal finance. Some people find it easier to increase income. Some people find it easier to minimize expenses. It really doesn't matter, as long as you keep the same amount of distance between the two lines the amount saved is the same.
Here are some parting thoughts. Chris adds:
Decreasing the slope of the red line becomes significantly harder over time as you grow accustomed to your lifestyle.
Adrian adds:
…it is easier to grow Wealth dramatically by increasing the slope of the green Income line than it is to decrease the slope of the red Expense line.
I would add that while increasing income is super-duper-awesome, lowering expenses has a double-impact. The lower your expenses, the bigger the Wealth wedge, and the smaller the Wealth wedge you need to be financially free. A high-income person and an average-income person could save the same amount, but the person with a much lower income could have a higher multiple of their expenses saved up and thus actually be better off financially.
What's your insight into this deceptively simple chart?