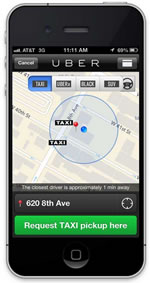 Updated, possible $20 free credit for existing Uber customers, new codes for both new and existing Silvercar customers.
Summon everything from your phone! Most of these startups offer bonus credit for first-time users. If you live in a major metro area, this can add up several free rides. I've used Uber several times now, and it is amazing how the entrenched taxi industry missed a huge tech opportunity. I see the same thing with Target's online buying experience being so much worse than Amazon.
Uber. $20 off your first ride via this special link or promo code uberMYMONEYBLOG. Existing users can get another $20 in Uber credit using the Facebook Messenger app, with details here (see bottom of post) and here. I couldn't get it to work myself, but others report success and supposedly they are adding more cities. Cities.
Lyft. $20 ride credit via promo code THOMAS82499 or my referral link. Cities.
Flywheel. $5 off your first ride until with this special link or promo code 27A8AP.
Gett. You can usually find the best available new user promo code here, up to $50 in the past but right now I don't see anything. Alternatively, you can try my referral code GTJONAT17 for $20 in free credit. Black car service in NYC only.
Sidecar. $10 ride credit with promo code jdhmd. If that doesn't work, get a $5 ride credit with my referral code JONATHAN931.
Curb (formerly Taxi Magic). $15 ride credit with promo code CURBFIRST. If that doesn't work, get a $10 ride credit with referral promo code 00b72a or via this special link. Cities.
Summon (formerly Instacab). $5 ride credit with referral code JPING or use this special link. Flat fares from anywhere in San Francisco to SFO ($35), OAK ($50) and SJC ($120).
Bonus Stuff
Silvercar. Rent a sleek Audi A4 with your phone. First-time renters can get $75 off their first rental of 2+ days with promo code JOLLY75 now through 1/10/16. Returning customers can get 15% off any rental with promo code JOLLY15 now through 1/10/16. I'm not sure if you can stack with the referral offer of $25 in Paypal when you sign up with referral code JPING (referral link, program details). I would sign up for an account first ($25 in PayPal), and then make a rental second ($75 off).
LoungeBuddy. This app helps you locate airport lounges, read reviews, and even book access directly. Get a free $10 in credit using my referral code SMMiI89dbv. In addition, until December 31, 2015, LoungeBuddy is offering a Holiday promo 100% rebate on lounge access at select locations in the form of app credit. So spend $10 cash on an airport lounge, and get $10 in LoungeBuddy credit to use again later.
Where the best deal is a referral code, I have included my own and will usually get a bounty of whatever you get (you get free ride, I get free ride). If my code isn't the best deal, I have posted the better deal first. Thanks in advance if you use any of them. Let me know if you find a better confirmed deal.