As 2015 winds down, here is a snapshot of the asset class forecasts provided by GMO and the most recent market commentary by co-founder Jeremy Grantham. You can access both of these at GMO.com, although some items require free e-mail registration.
Here is a snapshot of their 7-year expected future returns by asset class, inflation-adjusted, published in mid-December 2015 and using data as of November 30, 2015.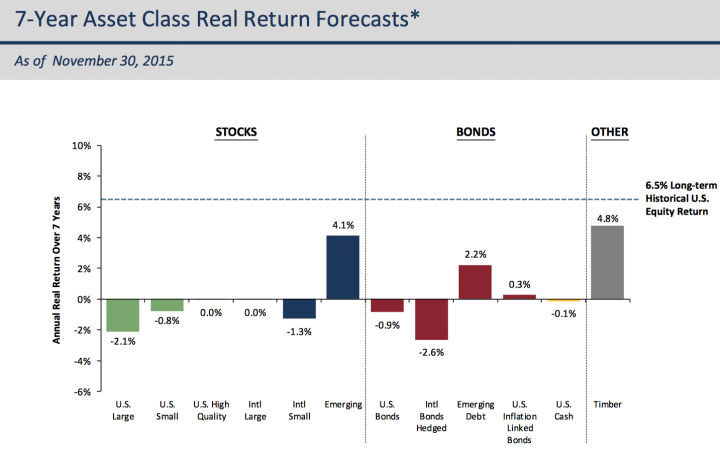 The chart represents real return forecasts for several asset classes and not for any GMO fund or strategy. These forecasts are forward-looking statements based upon the reasonable beliefs of GMO and are not a guarantee of future performance. Forward-looking statements speak only as of the date they are made, and GMO assumes no duty to and does not undertake to update forward-looking statements. Forward-looking statements are subject to numerous assumptions, risks, and uncertainties, which change over time. Actual results may differ materially from those anticipated in forward-looking statements. U.S. inflation is assumed to mean revert to long-term inflation of 2.2% over 15 years.
I like to keep track of these forecasts along with those provided by:
Here are some reasons why I like keeping track of these types of forecasts:
The projections are based on fundamental, historical, and valuation-based models. This is not to say they can't be wrong, but the strategy is at least unemotional and provides a reasonable range of expectations.
They usually provide support for rebalancing and buying more of beaten-down and unpopular asset classes. Currently, Emerging Markets stocks would fit that description.
They usually temper the mass enthusiasm for putting all your money in hot and popular asset classes. Currently, US stocks would fit that description.