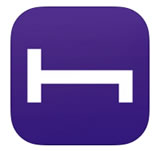 Hotel Tonight is a well-reviewed smartphone app that specialized in last-minute hotel bookings. Currently, there are promo codes active that can get you free credit good for any hotel available on the app. The selection is pretty good in my brief experience. Found via xlilsp1keyx of FW. Paraphrasing:
First, sign up online at this link. Be sure to add promo code JPING2 for $25 in credit (new customers only). This is my referral code, as are the rest of the $25 new-customer-only codes out there.
Sign into the app and apply the following code FACEBOOK for another $25 in credit (valid for existing users). You should end up with $50 in total credit. (Update: According to the original Fatwallet forum post and your comments, the FACEBOOK code no longer works on existing accounts. Sorry about the quick expiration, they had a similar $25 code good for existing users in early February that lasted longer.)
It worked for me (screenshot).
The credit expires one year after the promo code is applied. Please let me know if you know of any other codes that are active for existing customers. There are many other codes for a one-time $25 credit for new customers. These codes may stop working at any time, so I'd do it quickly.