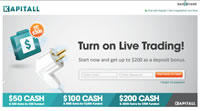 Kapitall is basically a brokerage with a user interface like a video game. Their motto is "Drag, Drop, Trade. It's that simple." I don't think the idea of equating stock trading with a game is a good lesson for long-term investors, so I'm not a big fan. In general, the more a person trades, the lower their returns.
However, Kapitall is offering a up to $200 bonus promotion that is worth mentioning. New customers who open and fund an account by March 31, 2014 can earn the following:
Deposit $50-$999, get $50.
Deposit $1,000-$9,999, get $100 and 1,000 Kapitall Koins.
Deposit $10,000+, get $200 and 2,000 Kapitall Koins.
The $100 for $1,000 deposit is essentially a 10% bonus and I don't see any minimum holding period or trade requirement. On a separate page. they do appear to add a 180-day minimum holding period for the initial deposit and one minimum trade. But if you want to withdraw your money, you'll have to make a minimum of two trades (buy and sell).
$200 for $10,000 is only a 2% bonus but that's still not a terrible risk-free return over 180 days when compared with current bank rates of 1% interest over a full year.
(Kapitall Koins are their form of reward points. As a reference, 2,000 Koins = 1 free trade worth $7.95.)
Fees and Commissions
Their commissions are $7.95 with no account maintenance fees and no inactivity fees. Paper statements and trade confirmations are $5 each so you should be sure to accept paperless statements. Here is the full fee schedule.

Offer fine print:
The cash credit offer is valid for new customers who open and are approved for a Kapitall Generation brokerage account and fund the account with the required amount as stated below by March 31, 2014. Cash credit offer is based on the following deposits into an approved brokerage account. Subsequent deposits into the same brokerage account do not qualify for additional cash credits. Fund $50-$999: Receive $50 cash credit into brokerage account and 500 Kapitall Koins. Fund $1000-$9,999: Receive $100 cash credit into brokerage account and 1000 Kapitall Koins. Fund $10K+: Receive $200 cash credit into brokerage account and 2000 Kapitall Koins.