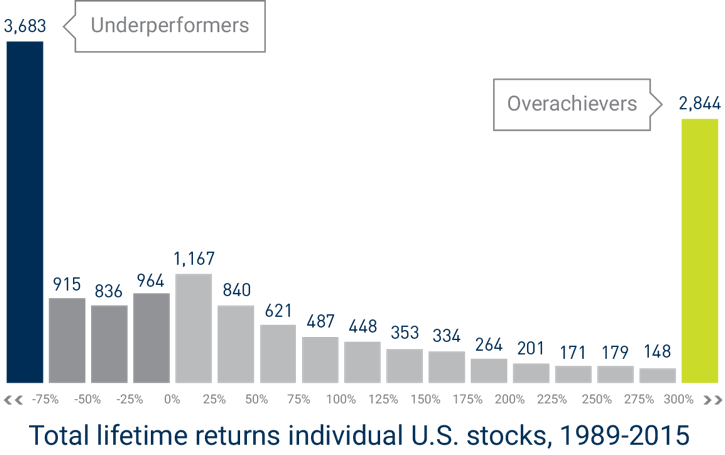 Have an individual stock idea brewing the in the back of your mind? Perhaps the recent LendingClub drama has you itching to buy a few shares of LC at under $5 a share? Above is an interesting chart that shows the distribution of total returns for individual stocks when compared to the S&P 500 index (1989-2015). It was created by Longboard Asset Management, found via Abnormal Returns.
We analyzed 14,455 active stocks between 1989 and 2015, identifying the best performing stocks on both an annualized return and total return basis. Looking at total returns of individual stocks, 1,120 stocks (7.7% of all active stocks) outperformed the S&P 500 Index by at least 500% during their lifetimes. Likewise, 976 stocks (6.8% of all active stocks) lagged the S&P 500 by at least 500%. The remaining 12,404 stocks performed above, at or below the same level as the S&P 500.
I felt that this chart shows you the psychological risks of investing in individual stocks. I've been dipping my toes back into individual stock investing with a very small portion of my portfolio. My general idea is to invest in some high-quality, dividend-earning stocks and thus being able to earn those dividends without paying the expense ratio of an ETF. I'd also avoid some tax-efficiency issues if I am able to hold them for very long periods as opposed to a dividend ETF that keeps changing the components of their underlying index. Here's one of my inspirations. In other words: Buy good stocks, hold them forever.
But as the chart above shows, some of your picks will do great, and some will do horribly. Some people will tell you about their "ten-baggers" and neglect to mention the losers, while the final math will show you lagging the index. As active investors, Longboard concludes that you should focus on avoiding the underperforming assets. But I'd be wary of being so careful about avoiding losers that they miss out on the winners. (The winners often look like losers at some point… can you say Apple?)
Even if you just plan on make a few trades here and here, individual stock investing is a mental sport that takes self-discipline and a calm rationality. Very few people have the characteristics needed, even when managing their own money with no management fee drag. Charlie Munger has his own take, but also admits that only a small percentage can add value:
I think a select few – a small percentage of the investment managers – can deliver value added. But I don't think brilliance alone is enough to do it. I think that you have to have a little of this discipline of calling your shots and loading up – if you want to maximize your chances of becoming one who provides above average real returns for clients over the long pull.

[…] I think it's hard to provide a lot of value added to the investment management client, but it's not impossible.