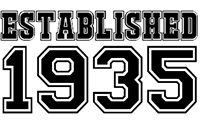 Imagine that it is 1935, and the US has just survived the Great Depression. You think to yourself – if a company can survive this, it's got to be pretty solid. So you buy equal amounts of stock from 30 of the largest US companies, and hold them… forever! If a company splits, you just keep the two new companies. If a company gets sold, you just keep the new shares of the purchasing company. If they go bankrupt, you let them. 80 years later, you would have the Voya Corporate Leaders Trust Fund (LEXCX), which has beaten 98% of other Large Value fund peers over the last 5 and 10 years. It's also beaten the S&P 500 over the last 40 years:

I found about the fund via this Reuters article, which outlines its interesting history and helps explain some of its holdings. Standard Oil is now ExxonMobil and Chevron. Santa Fe Railway is Berkshire Hathaway. The remnants of retailer Woolworth eventually became Foot Locker.
Let's be clear, I am not saying people should run out and invest in this fund. I just want to point out that this is a very early predecessor to the first index fund – it is passive, low-turnover, transparent, and (relatively) low-cost. I have no idea how the future performance will hold up, but I view it is another example of the power of less stock-picking and more patience. Even Jack Bogle seems to approve:
Its unique nature has often drawn attention including from Vanguard Group Inc founder Jack Bogle, who said he remembers the fund from his days as an undergraduate around 1950. "It's not a bad idea at all," he said.
The expense ratio today is 0.52%, which is lower than average for all funds but somewhat expensive given that the managers don't seem to do much beyond administrative duties. Given the simplicity of this method, can't we avoid the middleman costs and do even better?
I've written about Motif Investing (review) before, which allows you to essentially create your own ETF ("motif") of up to 30 stocks with zero management fee. Well, only 21 stocks are left in the Voya fund, so that's perfect. Motif is a registered brokerage firm that will let you trade all 21 stocks at once for $9.95 a trade. I couldn't find anything similar in their existing catalog, so for kicks I created my own Community Motif using the LEXCX holdings as of 12/31/2014. I called it Depression Survivors – Blue Chip Stocks Since 1935. Here's the widget they made for it:

If you create a custom motif, they have a Creator Royalty program which gets you $1 royalty if someone invests using it. If I get even a dollar I'll be highly amused. You can build your own motif by tweaking things or adding your own dividend stocks or whatever. Motif Investing still offers a $150 sign-up bonus if you open with $2,000 and make 5 trades.