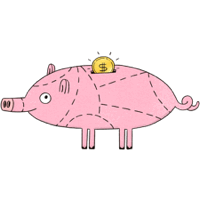 I've been in a "Back to Basics" mood and decided to work through the NY Times 7-Day Financial Tuneup. I don't have direct links to each day as you need a (free) NYT account to view your personalized list of tasks. Instead, I'm quoting selected portions to illustrate the general idea. These are my answers and not a statement of what is best – each person's situation is different but equally valid.
Day 1: Optimize Your Thinking

What do I value?
Try to figure out why you are working so hard and worrying about your finances. After that, setting financial priorities may be simpler.
Spending quality time with family and friends. Being able to spend time with my children while they are still young (and want to spend time with me too). Having the opportunity to teach them things and build a good lifelong relationship. I hope to avoid the cycle where young children spend all day cared for by paid professionals, and in return the elderly are also cared for all day by paid professionals. (Selfish, I know…) I'm not against school or babysitters – I also enjoy spending one-on-one time with my spouse.
Having personal time to pursue my own educational goals. I also want time all to myself. I want to try things that I'm not very talented at but I still enjoy. (This means dropping work, which often means getting paid for one specialized task.) I'd like to work on residential solar PV + battery storage + water catchment systems. I still have a plenty of room to improve my cooking skills. I want to smoke my own Texas-style briskets. I took this Vanguard retirement quiz and scored mostly as a "learner".
Find a way to give back. I also answered some questions as a "teacher" and "volunteer" role. I'd like to figure a way to give back to my community where I feel like I am making a tangible difference (as opposed to my current cash contribution with unknown impact). I still haven't figured this one out.
What brings me the most joy?
Figure out the two or three things you spend money on in your life that bring you the most joy. Is it your annual vacation? Your fancy gym membership? The great apartment close to work?
Our house. Location was our top priority, and it is close to both work, school, and most extracurricular activities. We chose less square footage in exchange for 30-minutes less (each way) in commute time. While we managed to pay off the mortgage, it did take up a big chunk of our income for a long time. The house is older and also has higher maintenance needs.
Extended annual trip every summer. We chose a school schedule with traditional summer breaks (no homeschooling, no year-round school). As a result, I would like to be able to plan a longer 4-week vacation each year in a different destination. This would help to better immerse ourselves in a different world. For example, one year might be studying national parks and then going on a cross-country USA road trip in an RV. The next might be Japan and having the kids prepare by learning about Japanese culture in the months leading up.
Home-based DIY fun. I like DIY culture (even though I'm not especially good at anything) and simple rules like "Eat anything you want, just cook it yourself". We don't eat out at restaurants often, but we do cook a lot at home and sometimes buy more expensive ingredients like good cheese, vegetables, and random things that aren't on sale. We buy nice kitchen hardware. Another similar thing we are going to try is home-based birthday parties (with 3 kids the $$$ adds up), which means we can "invest" in things like a playground/swing set, vegetable garden, and backyard movie screen. (Tree house would be a stretch goal.)
Financial Tuneup Recap (still in progress)
Day 1: Optimize Your Thinking (this post)
Day 6: Insurance
Day 7: Emergency Fund
Alternate Day 6: Flexible Spending Accounts
Alternate Day 7: Student Loans