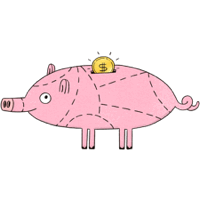 Day 3 of my NY Times 7-Day Financial Tuneup is called Find the Best Credit Card for You. (Sign up for your own personalized tune-up for full details.) The key again is to actually apply for a better card, not just think about it and then keep your old card with lukewarm rewards and/or high interest rates.
Scenario 1: Carrying a balance
If you are still working on paying down your credit card balance, the NYT (surprise!) recommends a credit card with a low interest rate and fees. The average credit card interest rate is something like 17% APR, which is simply nuts. Ignore cashback and rewards credit cards, as they have higher interest rates in general that will overwhelm any potential rewards. The NYT specifically mentions the following cards:
If you're going to apply for a new card, I prefer the following cards with 0% introductory APRs with no balance transfer fee. Here, the plan would be to consolidate balances and design a plan to pay it all off within the promotional period. After that, the rates will shoot back up again unless you do another balance transfer.
Scenario 2: No credit card debt
If you do pay off your balances every month, then you can ignore interest rates and focus on getting points, miles, or cash back on your purchases. The NYT specifically mentions the following cards.
Your goal with your new card should be to get all of the rewards you can just for spending as much as you normally would.
I'm giving the NYT an overall thumbs-up on these recommendations for most people. However, I would only recommend the Bank of America Travel Rewards card if you can participate in their Preferred Rewards program and reach the Platinum (2.25% back towards travel) or Platinum Honors (2.62% back towards travel) tiers. Otherwise, the Citi Double Cash is better than 1.5% back.
The hard part: Actually applying for a new card! The reason why there are so many juicy incentives for credit cards is that most people still don't like to bother with applying for a new card. Change can be hard. If you've been thinking about making a switch, let today be the day!
Financial Tuneup Recap (still in progress)