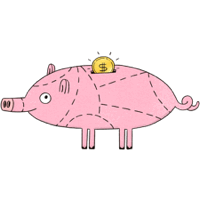 Day 2 of my NY Times 7-Day Financial Tuneup is called Trim Your Budget. The key here is to take action, not just do research and then put it off again. (If you just want to daydream, Day 1 was Optimize Your Thinking.) Again, the NYT doesn't have direct links, but anyone with a (free) NYT account can get their own personalized list of tasks.
Reviewing your monthly budget annually is a simple way to keep your spending in check. Don't worry, we're not going to ask you to cut anything you love, just to trim your spending in places you may not even notice. After all, if you benefit from your weekly yoga class or truly enjoy your restaurant night, have at it. Just be honest with yourself about the services that you truly use and enjoy. In comparison, if you have a languishing gym membership you never use, it may be time to cut that $50-a-month membership fee.
Round 1: Find an Easy Item to Cut
Gather your credit card and checking account statements from the last month.
List your spending. "…list any expense from the last month that occurs routinely: daily, weekly, monthly. From the cup of coffee you buy every morning, to your weekly manicure, to your monthly gym membership or magazine subscription."
Find an easy place to trim. "…most commonly-cut expenses are subscriptions to gyms, credit bureaus, newspapers and audio services."
Here is rundown of recurring expenses with some commentary.
Mortgage – thankfully paid off a few years ago.
Property tax – yes, but not really negotiable. I suppose I could contest the assessed value of my house, but it seems pretty reasonable.
Car loan – none. My measure of car affordability is whether I can pay for it with cash. I've paid cash on every car, from $2,000 on up to 20x that.
Student loan – thankfully paid off that $30,000 a while ago.
Insurance – feels like we have so much insurance, but they have high deductibles to protect against catastrophic events. Car, homeowners, life, long-term disability, and umbrella insurance.
Food/grocery/take-out/restaurants – I'm sure we could trim something, but not in a clear-cut way. No coffee shop habit.
TV/internet – yes, this is a target for trimming.
Cellular phone – Still at $6 a month with Sprint for two lines.
Gym – yes, just barely worth the cost.
Gas
Medical
Clothing, gifts, etc – yes, again I'm sure we could trim something but we are okay with it overall.
Charitable giving – yes, but already thoughtfully budgeted for.
Credit monitoring, Netflix, magazines, music streaming, etc. – I pay for Amazon Prime and feel it is worth the money. No to Netflix, Spotify, HBO, Lifelock, paid credit monitoring, etc. A few magazines at $5 or less per year.
Round 2: Lower Your Bills
Pick a bill to start with
Find and review your latest bill
Call your service provider
Ask for a reduction in your bill
The hard part: Pick up the phone and call my cable provider. I've done it before, but it's never fun. This tune-up did motivate me to do it, so I suppose that's something. I called my cable provider and after 26 minutes, I was only able to squeeze about $5 a month in concessions by having them re-arrange my bill around to a "new plan" from my "old plan". Even that required me to get past the initial lie that my "old plan" was "already a great deal". ($60 a year in savings is not bad for 30 minutes of time, I suppose.)
I did not go all the way to setting a cancel date, as I wanted to avoid interruption in internet service. If you are ready to cancel, see Tips on Reducing Cable and Phone Bills From Ethically Ambiguous Experts.
In the end, I called up the duopoly DSL provider to get the new customer promotion for TV and internet. I confirmed that their was no credit check required. If it all works out, switching should save me around $50 a month ($600 a year). Switching back and forth isn't fun, but it does save money!
Financial Tuneup Recap (still in progress)
Day 2: Trim Your Budget (this post)
Day 5: Credit Report
Day 6: Insurance
Day 7: Emergency Fund
Alternate Day 6: Flexible Spending Accounts
Alternate Day 7: Student Loans