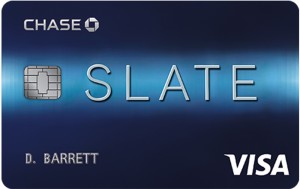 Transfer your balances to the Chase Slate® Card and get 0% intro APR For 15 Months and pay no balance transfer fee if done within 60 days of account opening. You won't pay any more interest until 2018, and all your money will go towards paying down the balance principal. You can literally borrow money for free and pay it back in 15 months with no interest (keeping in mind you'll still need to satisfy the minimum payment each month until then). $0 annual fee.
It is still rather rare these days to find a no balance transfer fee 0% intro APR offer that is available to all (as opposed to being targeted only to specific customers). You can verify in the Pricing & Terms section of the application, down in the Fees box:
None on transfers made within 60 days of account opening. All other transfers: Either $5 or 5% of the amount of each transfer, whichever is greater.
Make sure you initiate that balance transfer within the first 60 days.
Free Monthly FICO Score
As of March 2015, the Chase Slate card now offers an EMV security chip and a free FICO score every month. The FICO score will be based on your Experian credit bureau report, and they'll also have a "Credit Dashboard" that tells you reasons behind your score and a summary of your Credit Report information. Here's a screenshot:

According to the WSJ, so far this is only available on the Slate and not other Chase-issued credit cards. This is because the Slate is by far Chase's most popular card for those transferring existing balances and that means many of those 10 million cardholders care about their interest rates and credit scores.
Lower your interest on balances!
This is a great opportunity for those people with good to excellent credit but are still working hard to lower their debt payments, as now you can have all your money applied directly into cutting down your principal instead of having it go towards interest and/or fees. The 0% APR applies to new purchases as well, so your balance owed will go down that much faster and you won't have to worry about interest until well into 2019.