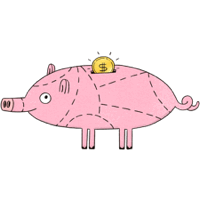 Day 5 of the NY Times 7-Day Financial Tuneup is about your credit reports. (Yes, I've been taking this at my own pace. Sign up for your own personalized tune-up here.) This one felt a bit basic, so I also recommended a bunch of additional sites that are hopefully also helpful. Let's start with a summary of what the NYT says:
Understand what your credit report means. Your credit report includes data on your credit card payment history, mortgages, student debt, new loan applications, and bankruptcies.
Get a copy of your credit report. AnnualCreditReport.com is the official government-mandated site. You can get one of each of the three major bureaus (Experian, Equifax, and TransUnion) once every 12 months, so one tactic is to stagger them every 4 months.
Check for errors. You can dispute errors using sample letters from the Consumer Financial Protection Bureau. Instructions are included for disputes with both the credit bureau and the lender.
Improve your habits, if needed. Credit repair 101… Pay your bills on time. Keep card balances well below your credit limit.
Hold off on opening new accounts for a while.
Freeze your credit. The NYT says that it is "generally a good idea" to freeze your credit. You will have you unfreeze your credit next time you apply for a credit card, try to rent an apartment, apply for a mortgage or do anything else where a company may need your credit report. You may need to spend $5 to $10 each time as well.
More free consumer data reports. I would also add my Big List of Free Consumer Reports, Part 1 and Part 2 if you want a complete picture including things like rental history or insurance reports.
My take on credit freezes. Freezing your credit may be a reasonable step if you rarely do anything that would require a thaw. However, between my wife and I, we probably get 10 credit pulls a year. (Don't worry, zero credit card debt, zero car loan, zero mortgage debt. Credit score is still good too.) Every time I apply for a new credit card or join a new credit union, I might would have to thaw and then re-freeze the bureau, and that's if I already know ahead of time which one of the three I need to thaw. That adds up to both a lot of time and money.
I would add a free credit monitoring service instead. A timely example – just yesterday on March 5th I decided to apply for a new credit union membership at Sharonview Federal Credit Union. Some preliminary research indicated that they would probably pull a credit report (probably TransUnion), but I wasn't sure. After making the application, I was notified right away by multiple free credit monitoring services that it was TransUnion (and only them). I'm writing this post on March 6th. If a credit freeze had blocked their check, I would have to manually ask them to check again, which would have delayed my application on a limited-time offer.
Here's a screenshot of my free alert from CreditSesame.com: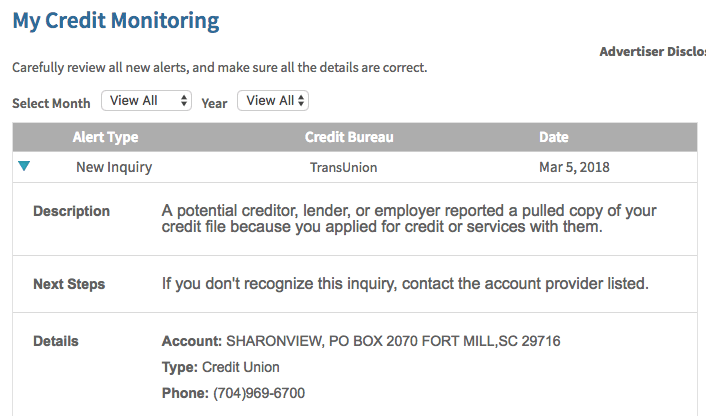 Here's a screenshot of my free alert from CreditKarma.com: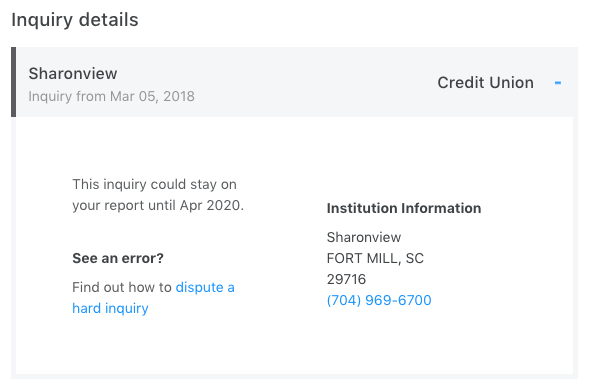 I think you'll agree that the ability to receive a free alert within a day is a lot better than checking in at most once every 4 months. CreditSesame tracks TransUnion, and CreditKarma tracks both TransUnion and Equifax. There are other options and most are advertising-supported, so you'll see ads for mortgages and credit cards on the site. There may also be some "premium" features they try to upsell you, but I've never had to pay a cent.
Financial Tuneup Recap (still in progress)
Day 5: Credit Report (this post)
Day 6: Insurance
Day 7: Emergency Fund
Alternate Day 6: Flexible Spending Accounts
Alternate Day 7: Student Loans