I've now spent nearly 10 years and 10,000 hours actively reading, thinking, and writing about money and the pursuit of financial freedom. I've still got a few years until early retirement but I can finally see the finish line. I've been meaning to summarize some of the lessons I've learned over time, as I'd like to make something more permanent that I can share with my everyone including my own kids.
In retirement planning, your "number" is usually defined as the amount of money you'll need to retire. Something like a million dollars, like I used as a goal when starting this blog. Well, I was wrong. Your savings rate is the most important number!
If you take your annual income, your annual spending, and your annual investment returns, most people will admit that they have the most control over the first two. Your income minus your spending equals your savings. Your personal savings rate is thus the percentage of your after-tax income that you can save (and invest) each year:

I'll leave the details out, but with some accounting equations and rough assumptions you can determine the number of years until your savings can create enough income to support your expenses.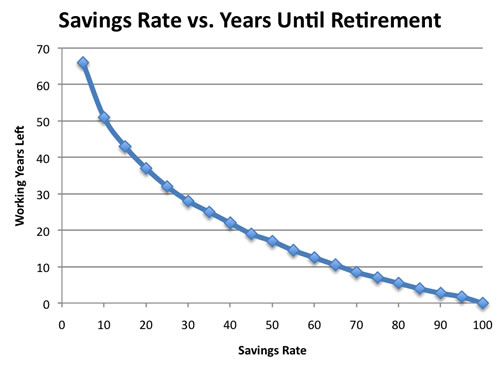 Rule of thumb: If you start at zero, you will need a 50% savings rate to retire in 15-20 years. You will need a 30% savings rate to retire within 25-30 years.
I've found that the math really does work out this way. You will need to save nearly half your income on a regular basis in order to retire early. Most people will never do this. But it is possible. My net worth was negative $30,000 in 2000. My wife's was zero. Over the last 10 years, we have saved over 50% of our income every single year except for one year where I quit my job and went back to school. More tips on how it can be done in future posts.
If you want financial freedom, you must calculate and focus on your savings rate.