An important tenet of portfolio construction is rebalancing your portfolio to maintain your desired risk profile and also provide the best risk-adjusted returns. The next question is usually – Okay, so how often do I rebalance? Well, this Vanguard article targeted at financial advisors answers that question (found via Abnormal Returns).
Longer answer:
Our 2010 study looked at the performance of portfolios that used rebalancing strategies based on various time intervals, allocation thresholds, and combinations of both. The time-based portfolios were rebalanced monthly, quarterly, or annually, while the threshold categories were rebalanced when allocations deviated by a predetermined minimum (in this case 1%, 5%, or 10%) from their target allocations. The "time-and-threshold" strategy combined periodic monitoring with predetermined minimum rebalancing thresholds. […] We found that no one approach produced significantly superior results over another. However, all strategies resulted in more favorable risk-adjusted portfolio returns when compared with returns for portfolios that were never rebalanced.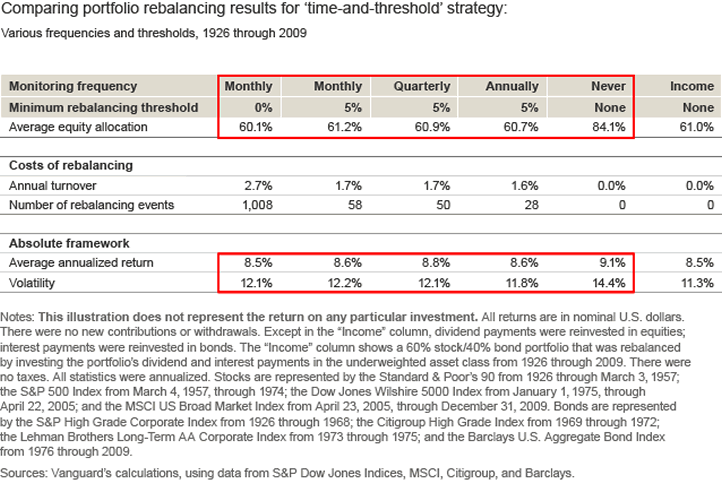 Short answer: It doesn't matter, as long as you do it regularly and without emotion. Rebalancing every month was no better than rebalancing just once a year.
Personally, I try to rebalance whenever I make my monthly share purchases by buying underweight asset classes, but I will only sell and create a taxable event once a year if things are really out of whack. The more common problem is that you are afraid to rebalance because that usually means buying whatever has been getting crushed and selling what has been rising. If you haven't done it recently, that probably involves selling some stocks and buying some bonds. Like the shoe company says, just do it!