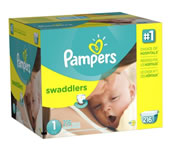 With the announcement of Target Subscriptions, I wanted to run a quick price check to see how it stacks up with competitors Amazon.com and Diapers.com. We're expecting another baby, so we'll be needing lots of diapers soon (cloth just didn't happen). Below is a chart of prices, data table, and recap. All shopping methods offer free shipping unless otherwise stated. Prices are as of May 6th, 2014.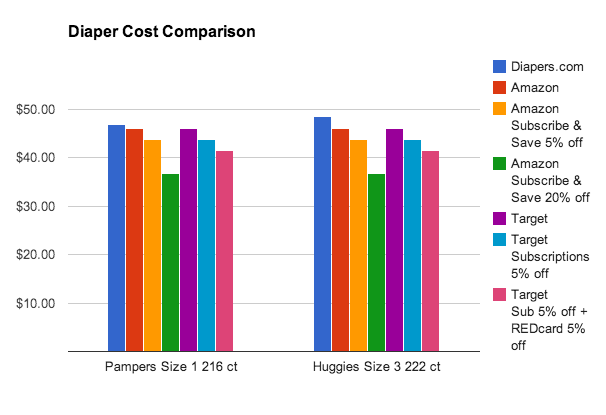 Shopping method
Pampers Swaddlers Diapers Size 1, 216 count
Huggies Snug & Dry Diapers Size 3, 222 count
Notes
Diapers.com
$46.89
$48.39
Ignores first-time customer promotions
Amazon
$45.97
$45.99
immediate ship
Amazon
Subscribe & Save 5% off
$43.67
$43.69
auto-delivery
Amazon Mom
Subscribe & Save 20% off
$36.78
$36.79
20% off all diapers with Amazon Mom + Amazon Prime.
Target
$45.99
$45.99
immediate ship, must spend $50 for free shipping
Target
Subscriptions 5% off
$43.69
$43.69
auto-delivery
Target
Subscriptions 5% off +
Target REDcard 5% off
$41.51
$41.51
auto-delivery + must pay with REDcard.
Recap and Notes
Diapers.com has some good new customer promotions (currently $10 off first case, 20% off for 3 months on auto-delivery). However, on an ongoing basis their prices appear more expensive than Amazon or Target.
Amazon Subscribe & Save with Amazon Mom technically offers the cheapest price, but you'll need Amazon Mom (free trial) and thus Amazon Prime. Amazon Mom gives 20% off all diapers and wipes, and you can get 20% other Subscribe and Save items with Mom if you reach at least 5 subscription items per month. (If you just have 5 items and no Prime/Mom, you get 15% off.) As of right now, that isn't a problem for us as we use it every month. Keep in mind that Amazon is always fiddling with pricing so it's wise to keep an eye on them.
Target subscription prices are generally competitive, but don't appear to beat Amazon significantly and their selection is still much more limited. I did include a line with the 5% off with Target REDcard discount, but note that you can also use a rewards-earning credit card at Amazon.
Sales tax is another consideration, as Target may charge sales tax in your state while Amazon may not if it doesn't have a physical presence in your state. Amazon is gradually starting to charge sales tax in most states, however.