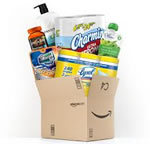 There is a minor kerfuffle going on with Matthew Yglesias and his post How to Save Money on Amazon With a Fake Baby vs. internet ethicists including Gawker.
Short version: If you sign up for Amazon's Subscribe & Save program and add at least 5 items in that month's delivery, then you'll get 15% off every item in that delivery instead of just 5%. However, if you are a member of Amazon Mom (free with Amazon Prime trial) and do the exact same things (add at least 5 items to that month's delivery), then you'll get 20% off every item in that delivery. There goes Amazon… contributing to overpopulation and fake babies.
I didn't even notice this difference because we signed up for Amazon Mom a while ago as we had a real baby, but I do like the 20% off on wipes, diapers, baby food pouches, and addictive indian curry packets. (Oh, I really don't care about the kerfuffle. People can decide for themselves.)
Buy more, pay less? I usually sign up for everything recurring every month, and then cancel whatever I don't need when I get their warning e-mail that things will ship soon. Sometimes I don't reach five items, although if you sort by price*, there are several cheap S&S-eligible things that you can actually save money by buying them. For example, if you have 4 items totaling $80, then adding an additional item will save you 15% extra, or $12. So adding anything that costs less than $12 will actually reduce your final bill.
* Try this link for Grocery items
and in the top-right corner click "Sort by Price: Low to High". Try this link for Baby foods. The prices don't always seem to sort correctly, but if you scan the first few pages it helps.