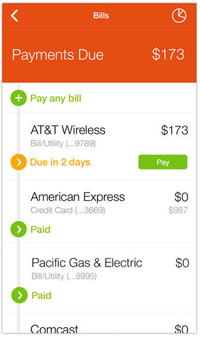 A few readers e-mailed me to let me know that bill management website Manilla.com announced that they will be shutting down. Surprising, as they were just mentioned in Money magazine last month!
Manilla will be closing on July 1, 2014. This was a hard decision given that, over the past three years, Manilla has won many awards […] but was unable to achieve the scale necessary to make the economics of the business viable.
As noted in my now-useless Manilla review, many people enjoyed having all of their bills located in a central place. It was also nice that they offered to store all your old bills forever… or in this case September 30, 2014 after which they will be destroyed.
What are good Manilla alternatives? Here are several services that offer similar features in no particular order, please feel free to add more in the comments. I haven't gotten to try them all out yet, so share your experiences as well.
Finovera – "Our mission is to make the process of receiving, managing, paying and organizing household bills and documents simple, automatic and effortless."
Enfold – "Enfold is a free-for-life virtual filing cabinet where you can safely store and organize all your important documents and account information."
MoneyStream – "Not just an organizer or bill-payer, MoneyStream brings everything together in one secure place—and then shows you a future view of your money so you can see at a glance where you stand and where you're going."
Check (formerly PageOnce) – A free smartphone app that both organizes and tracks balances, with the added feature of letting you pay your bills through the app. I don't think it stores past statements past a certain time period.
Mint – Owned by Intuit, Mint is more budget-centric and tracks all of your transactions. You can't pay bills through the software (although it will send you bill reminders) and it doesn't store actual monthly statements.
Mobilligy – "Mobilligy puts all of your bills in one app that lets you review, manage and pay your bills for free – anytime, anywhere."
FileThis – "FileThis is like a personal assistant for your paperwork. It automatically collects, files, tags, and organizes your online documents in a digital filing cabinet. Never lose another bank statement, legal paper, tax form, insurance document, or other important piece of paperwork."
Doxo – "All your provider accounts and information together at last. Back up all your critical documents automatically to your personal cloud storage. Receive and pay bills from connected providers with doxoPAY."
Personal Capital – similar account aggregation focus as Mint, plus some investment portfolio analysis features.
Zumbox – "Your postal mail delivered online. Your documents stored securely, forever."
Intuit Paytrust = "PayTrust's all-in-one online bill pay allows you to easily receive, track, and pay all your bills online."
MyCheckFree – "Receive and pay your e-bills at one easy, secure location."
Yodlee Labs – "This is a site where Yodlee will launch (and test) all of its latest (account aggregation) products before they are launched anywhere else in market." If you just want most recent, most-refined version, sign up at Yodlee Moneycenter.
With Manilla and Everpix, I am reminded that any offer to store your stuff "forever" really means "as long as we keep making enough money". Personally, I'm still using my bank's Online Billpay service along with AutoPay with credit card where possible. For archival purposes, I download any paperless bills in PDF format to a folder on my computer, which is automatically backed up daily to my external hard drive and also instantly synchronized with my free Dropbox.com cloud account. However, if I can truly view and pay all my bills in one simple mobile app and a few taps, I'd be up for that.