Most people still elect to receive paper bills, even though almost every vendor is pushing paperless. Why? Personally, my e-mail inbox is so much more cluttered with crap compared to my post office mailbox. It's very easy for me to forget about a short e-mail saying "you have a bill waiting" with 86 other unread e-mails shouting at me. But then again, I do end up paying the bills online, so perhaps there is a better way? This is where Manilla.com comes in.
Making Paperless Billing Better
All your bills are organized in one central place. You give Manilla your login information*, and they handle the rest. If you need to look up an old bill, you don't need to open the filing cabinet or reset your password (again) to that archaic water department website designed in 1995. You can just view or print out the .PDF from Manilla. They promise to store your bills for free, forever. I do wish there was a way to download all your stored bills at once, perhaps in a .zip file.
You may find that Manilla may not list some of your local vendors, although you can suggest future account providers for them to add. I couldn't find my local water utility. You can also add magazine subscriptions, frequent flier mileage programs, and hotel rewards programs.
Easy-to-manage bill reminders. You can request e-mail or text message reminders to 7 days, 3 days, and/or 1 day before the due date. I need these repeated reminders, and it's nice that they turn off automatically after they see that the bill has been paid.

Autopay? One of the initial annoyances when I tried the service was that it kept reminding me to pay bills that were on AutoPay. I know it hasn't been paid yet! However, you must simply change a setting that tells them that the bill is set to Autopay which stops those reminders.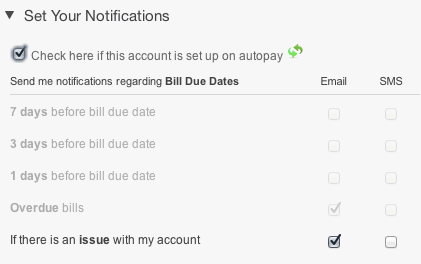 Paying bills. If you like to pay bills at the actual vendor website, Manilla tries to make it easier with auto-login using your stored username and passwords. If you're like me and use your bank's online billpay interface, then you'll still have to do that yourself. Most of my bills are on autopay now, so the main benefit is the stored bills for easy access.
How Manilla stays free. Paperless billing saves money for vendors. But people like paper bills. Manilla tries to make paperless billing more palatable for you, and when you sign up for paperless billing then the vendor (i.e. Citibank, Comcast) pays Manilla a little something each money. In turn, the service is free to you.
Quietly signing you up for paperless bills. One thing that should be made clear is that whenever you add a vendor, Manilla will automatically convert you to paperless if it can, whether you like it or not. I would personally like to have both for a while (paper bills and Manilla .pdf). From their FAQ:
When you link accounts that Manilla partners with, those accounts will become paperless automatically. That means you will not receive physical postal mail. Instead, you will receive your bills and statements at Manilla, where they will be instantly organized and stored for you. You can even print a copy. If you're already paperless, great! You can still use Manilla to keep all of your accounts organized.
In the end, I have been using Manilla for a couple of months now, and my favorite feature is the easy access to past bills. I have signed up all my recurring utility-like bills (cell phone, internet, electric, sewer, garbage, auto insurance) and I expect to keep using Manilla to manage those (most are on AutoPay as well). However, I am keeping my credit card accounts separate because I still like the feel of going over a physical credit card bill and mentally re-approving all my purchases from last month. Does that make me sound old and crotchety? 🙂
(*Yes, Manilla is yet another private 3rd-party that wants your usernames and passwords. I have trusted a few companies with this personal data of mine, but is this one worth it? Well, Manila is a legit company owned by Hearst Magazines with official agreements with big companies like Citibank and DirecTV, and seems to have all the standard security protocols like SSL. Also, Manilla doesn't actually handle money transfers, so I am comfortable using it.)