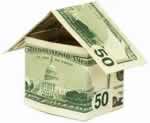 Mortgage rates are still setting record lows! Qualification is still very difficult to refinance for those with little home equity, but there's still many people out there that are eligible (maximize your appraisal). Don't miss your opportunity to lower your interest costs and own your home faster by believing in one of these common mortgage refinance myths:
#1 I don't want to pay the high closing costs again.
It's true, when you refinance there will be additional costs. The mortgage broker has to eat! However, that doesn't mean you actually need to pay anything extra.
First of all, you can get paid for negative points. Depending on the interest rate, the originator/lender will actually pay you a credit each 1 point = 1% of the loan principal. The lower the rate, the less points you'll get. But if the credit is high enough, that may cover all your costs, making it a "no-cost" refi. Alternatively, they may simply advertise "no closing costs" which means they cover a certain list of fees.
When you apply for a refi, you'll get a Good Faith Estimate (GFE) with a total closing costs amount listed at the bottom. However, you should separate the true costs from the stuff that you'd otherwise have to pay anyway, including:
Prepaid or partial month interest
Homeowner's insurance to escrow
Property Taxes to escrow
The remaining amount (origination fees, doc fees, application fees, appraisal fees, title insurance, credit report fees, etc.) is what I would just call the true cost of refinancing. Some "no closing cost" lenders still make you pay the title insurance fee.
#2. I can't refinance because it's been too soon since my last financing.
There are no federal laws or mortgage contracts that prevent you from refinancing again (but check your state laws, thanks Peter!). In fact, it's quite expected by investors that borrowers will refinance when rates drop. In fact, if you have a Freddie Mac, Fannie Mai, or FHA loan, you may be able to get your appraisal waived if you are refinancing within a certain period of your last appraisal.
However, some loans do have prepayment penalties that can come into effect if you pay off additional loan principal within an initial time period. Usually these loans offered extra-low interest rates or are forced onto subprime applicants. In general, prime mortgages do not have prepayment penalties, although you should read your contract carefully to make sure. If you do accept a prepayment penalty, make sure you're getting something worthwhile in exchange. I would rather avoid them completely as it makes it easier to compare different loan options.
#3 I already refinanced recently and I haven't reached my breakeven time period yet.
This is based on the concept of the "break-even" period. For example, if a refi cost you $2,400 in net closing costs but saved you $100 per month, you'd break-even in 24 months. Past that, you're saving $100 every month. But what if after only 10 months, rates have dropped even lower so that you can again refinance to a lower rate?
This is a variation of the sunk cost fallacy. You've already spent the money and you can't get it back, so it's too late to worry about it. You can only do what's financial best starting from today, and if you can lower your interest rate again with an acceptable new break-even period, then you should do it.
The simple way to avoid such mental gymnastics going forward is to see if you can get a "no-cost" refi. As long as you can lower your interest rate without having to put up more money (keeping in mind the unavoidable costs listed above), then you know you'll come out ahead. This may not get you the absolute best rate, but when comparing mortgage quotes, it makes life easier when you just look for the lowest rate that will be no cost to you.
#4 When you refinance, you're either losing equity or not building equity as fast.
First, as long as you're not performing a cash-out refi that adds your loan principal, you won't lose any equity with a refinance. All your previous payments and any additional principal prepayments you sent in will reflected in a smaller loan principal (the amount still owed).
The second part about "building equity" seems to be based on a misconception on how amortization works. Your mortgage payment is always split into a portion that pays down your principal and another portion that goes toward interest. If you have a $200,000 loan at a 5% interest rate, $10,000 will go towards interest that first year no matter what kind of mortgage you have. Going forward, your annual interest payments will always be close to your principal left times interest rate, be it 10-year or 30-years long. The rest goes to principal.
So let's say you had a 30-year mortgage with $200,000 initial loan amount at 5% interest ($1,074 monthly payment) that you want to no-cost refi to 4.25% interest ($984 monthly), but you're already 2 years into the mortgage. Uh-oh! Instead of 28 years left, you now have 30 years left again. No no no! Assuming no prepayment penalty, you can always send in additional principal payments so that you build equity just as fast or faster than before. I do it automatically every month via direct ACH withdrawal from my checking account.
As long as you pay the same monthly amount as before ($1,074), you would actually be done in a little less than 26 years. That refi would allow you the option of paying off your house 2 full years earlier with zero change to your current payment! I like looking at things this way as opposed to a monthly savings of $90 a month.