Here's another data point in the debate about safe withdrawal rates, or how much money you can safely withdraw from an investment portfolio each year without running out of money. Merrill Lynch Private Banking recently released a whitepaper on "sustainable wealth" aimed at high net worth individuals. Supposedly, in more than 67% of rich families, their wealth fails to outlive the generation following the one that created it, and 90% of the time, assets are exhausted before the end of the third generation.
Rich people problems? Sure, but one of the reasons for this high failure rate is that many people don't have a reasonable idea of what makes a sustainable spending strategy. This applies to anyone who will eventually draw income from a portfolio for an extended period of time. Making a portfolio last generations is very similar to planning for early retirement. As we are talking about percentages, the numbers apply just as well to smaller portfolios.
Here are the results from a survey of wealthy families ($5M+):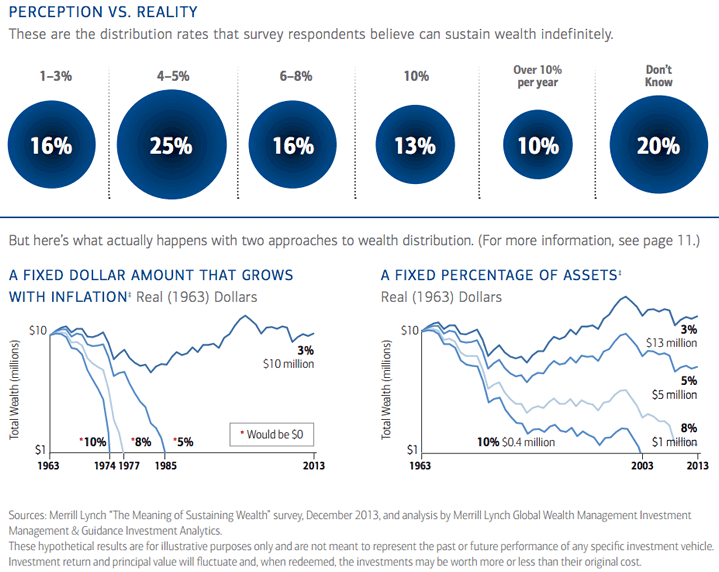 Here are the safe withdrawal rates they calculated for a 60% stocks, 35% bonds, 5% cash portfolio based on "Merrill Lynch capital market and fee assumptions".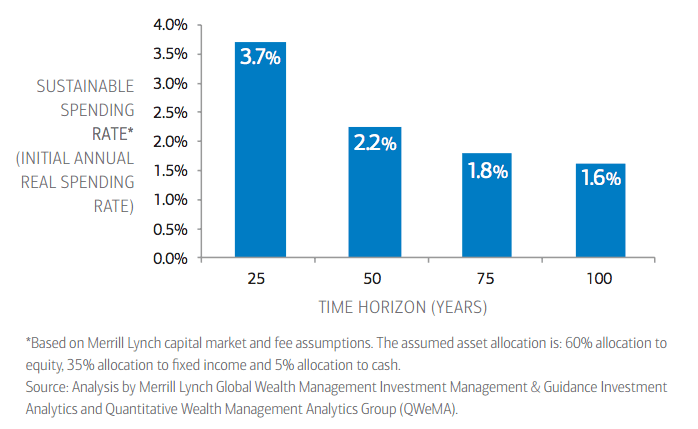 I couldn't find where they state what their confidence level is or what their "fee assumptions" are but I would assume they would at least be in the neighborhood of 1% annually. If you invest in low-cost index funds, that would theoretically mean you could increase the provided withdrawal rates by another 0.8% to 1%.
It looks like 3% is a good number if you want to be safe for 50 years, which is close to my investment horizon. Unfortunately, it is just a matter of luck whether you really need to take things that safely. From this other Merrill Lynch paper, starting with the same portfolio balance you could have taken out 5% a year (67% more income) starting in 1974 and your portfolio would have lasted just as long as if you withdrew only 3% starting in 1972. That is the potential effect of retiring just two years apart.

If I do use the 3% sustainable withdrawal rate, that works out to putting aside 33 times my annual expenses. To increase flexibility, I also like the idea of making the withdrawal rate somewhat dynamic (adjusts with investment returns) similar to how Vanguard Managed Payout Funds are structured.
Merrill Lynch whitepaper (via BusinessInsider)