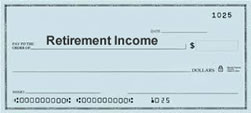 A key component of retirement planning is figuring out how to draw an income from all that money you've invested. "Create your own paycheck." The trick is figuring out how to take a stable amount out every year without running out of money.
This has led to a debate about "safe withdrawal rates". The 4% number has been thrown around a lot, where for example if you retired with $1,000,000 in a balanced portfolio of stocks and bonds you might take out $40,000 a year (increasing with inflation) for 30 years with confidence. The problem is that if you simply take out 4% of your starting balance and then keep taking that number out every year robotically then your outcome depends a lot on sequence of returns. If you hit a prolonged bear market just a couple years into retirement (i.e. value drops to $700,000), your nest egg is much less likely to survive. On the other hand, if you hit a bull market for the first 10-15 years and only experience the bear market afterward, then you may die with more money than you started with.
This is why many experts encourage a more flexible "dynamic" withdrawal strategy that adjusts withdrawals based on portfolio performance. There are an infinite number of ways to implement this, so I looked for an industry example and found it in the Vanguard Managed Payout Fund (VPGDX)*. This all-in-one fund uses a 4% target distribution rate and with regular, monthly distributions that you can indeed treat like a (somewhat variable) paycheck. The fund is actively managed for total return, although a majority of its components are passive index funds.
How does the Vanguard Managed Payout fund calculate how much you can spend each year? Reading through the prospectus, we find that the monthly payout is calculated on January 1st every year, then kept constant for the next 12 months, and then reset again the next January 1st. If you started January 1st, 2014 with a $1,000,000 in this fund you would get a payout every month of 2014 for $2,995 ($35,940 a year). Why isn't it 4% or $40,000?
The fund's dynamic spending approach uses a "smoothing" method that keeps the monthly payout from changing too dramatically from year to year. Specifically, the 4% withdrawal rate is based on a 3-year rolling average of hypothetical past account value (assumes you spend the monthly distributions, but reinvest any year-end capital gains and dividends). Screenshot from prospectus:

So since the average of the past 3 years is lower than the current value, you're getting 4% of a smaller number. As you can see, with smoothing your annual income from this fund can vary significantly over time. A starting portfolio size of $1,000,000 might get you an annual distribution varying from less than $36,000 or more than $44,000. Other smoothing methods include setting a maximum ceiling or minimum floor value, but this fund does not do that. Ideally, you would use the income from this fund to supplement other income from more reliable sources like Social Security, pensions, or guaranteed income annuities. That way your overall income will vary even less, and you'll only have to cut back a little during down years.
(* Previously, Vanguard had three different Managed Payout funds with three different target spending rates of 3%, 5%, and 7%. I think this was confusing for many investors who didn't really understand that the 7% fund would most likely experience a significant loss of principal over time. This is only speculation on my part, but the 7% payout fund did gather 8 times the assets as the 3% payout fund, even though 3% is a more realistic number for most folks. Vanguard now says that 4% is best for the "typical retirement period of 20–30 years".)