I'm taking the Live Below the Line challenge, which means eating for 5 days on just $1.50 a day. After a shopping trip and a few cooking experiments, here's my menu for next week (4/29-5/3).
Rules
Even though the challenge rules allow it, I won't be using anything that is significantly processed. That means no ramen noodles, protein powder, multivitamins, etc. Also, when calculating the cost of the ingredients, I will use the unit costs based on common supermarket sizes, not wholesale or warehouse store sizes. Examples are 5 lb bag of rice, a Morton can of salt, and a 28 oz. bottle of oil. I cross-checked all my listed prices with the USDA database to make sure they were reasonable.
Update: I misread the rules and have made some changes in order to avoid buying things like a 10 lb bags of beans, even though in reality that would be the most economical. Instead, I had to find the places that had the cheapest bulk bins. Some prices went up, but some prices actually went down. I had to leave out the onion from dinner, but otherwise the menu stayed the same and under budget.
The Menu
I wanted to make things simple, so I just planned to have the same meal for all five days. Breakfast is pretty quick and will be made each day. Lunch and dinner will be prepared on Sunday night and be reheated for the rest of the week.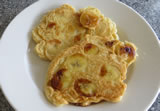 Breakfast
Banana "crepe" pancakes
Ingredients per day are: 0.75 cup flour, 1 egg, 1 banana, 1 tbsp oil, and a pinch of salt. Basically mix everything together with ~0.75 cup water to make thin batter, and fry. This makes two large pancakes (see picture) and my first attempt was pretty tasty. The riper the bananas, the sweeter. Total cost of 5 meals: $1.88
Lunch
Lentil soup with 2 large chapatis (flat bread).
Soup ingredients for all 5 days are 2 cups dry lentils, 4 carrots, 2 onions, 4 cloves garlic, 1 tbsp oil, and 3 tsp salt. 10 large chipatas (2 per day) are 3 cups flour, boiling water, and 1/4 cup oil. I haven't made the soup yet, but I fried up some chapatis and they were a nice bread/tortilla replacement. Total cost of 5 meals: $2.03 + $0.44 = $2.43
Dinner
Plate of rice, beans, and tomatos.
Ingredients for all 5 days are 2 cups uncooked rice, 2 cups dry pinto beans, 1 can crushed tomatoes, 2 tbsp oil, and salt. Pile o' cooked rice, pile 'o cooked beans, pile o' canned tomatoes and diced fresh onions. I actually used to eat this anyway when in "bachelor mode", except with canned beans and bottled salsa. Total cost of 5 meals: $3.11
Total cost for the week: $7.42
Shopping List
Here are all the ingredients that I will be using, broken down into the price of the overall package and the unit cost.

[Read more…]