Bad news seems to come at us from all angles, but sometimes we need to step back and point out the good news. Here is a chart of how the the worldwide level of hunger, poverty, illiteracy, child poverty, and pollution has fallen over the last 25 years. Via @dinapomeranz and @johanknorberg.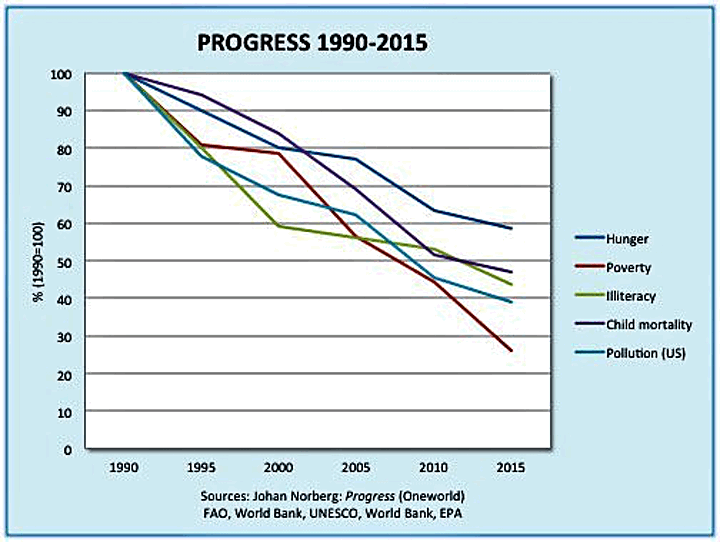 Here are some specific stats comparing changes in the last 50 years (1966 to 2016). Via HumanProgress.org. These are worldwide numbers. See specific numbers for your own country and age at Your Life in Numbers.
In 1966, average life expectancy was only 56 years. Today it's 72. That's an increase of 29 percent.
Out of every 1,000 infants born, 113 died before their first birthday. Today, only 32 die. That's a reduction of 72 percent.
Median income per person rose from around $6,000 to around $16,000, or by 167 percent – and that's adjusted for inflation and purchasing power.
The food supply rose from about 2,300 calories per person per day to over 2,800 calories, an increase of 22 percent, thus reducing hunger.
The length of schooling that a person could typically expect to receive was 3.9 years. Today, it's 8.4 years – a 115 percent increase.
The world has become less authoritarian, with the level of democracy rising from -0.97 to 4.23 on a scale from -10 to 10. That's an improvement of 5.2 points.
There are many forces behind these trends, but perhaps it will inspire people to keep trying to improve their world or to support others financially who are dedicating their lives to improve the world.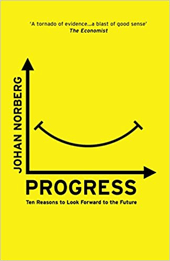 Johan Norberg wrote Progress: Ten Reasons to Look Forward to the Future, which was a 2017 Book of the Year for The Economist and the Observer. I haven't read it, but it seems like a well-researched book with hard evidence on why we should be more optimistic.
Our world seems to be collapsing. The daily news cycle reports the deterioration: divisive politics across the Western world, racism, poverty, war, inequality, hunger. While politicians, journalists and activists from all sides talk about the damage done, Johan Norberg offers an illuminating and heartening analysis of just how far we have come in tackling the greatest problems facing humanity. In the face of fear-mongering, darkness and division, the facts are unequivocal: the golden age is now.